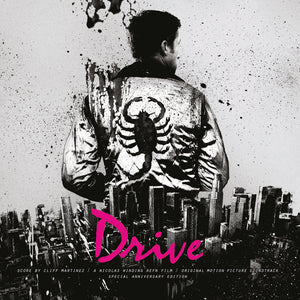 Cliff Martinez / Various Artists - Drive (Original Motion Picture Soundtrack) (10th Anniversary) 2LP
Tax included.
Shipping
calculated at checkout.
---
---
The soundtrack to Nicolas Winding Refn's Drive needs no introduction, and is hailed one of the greatest and most iconic film scores of recent times.

Invada Records and Lakeshore Records are celebrating the 10th anniversary of the release with a limited edition double LP. The soundtrack features the legendary synth score by Cliff Martinez along with tracks by artists such as College and The Chromatics.
The vinyl artwork has been completely re-designed, and features stunning new packaging exploring the film's Noir element through the use of black and white imagery.
The soundtrack is pressed on all new one disc blue marble / one disc pink marble vinyl, with the records housed in beautiful double sided printed inner sleeves, and a deluxe gatefold outer sleeve.
Drive was a smash hit upon release.
Tracklist:
1. Nightcall [Kavinsky and Lovefoxxx]
2. Under Your Spell [Desire]
3. A Real Hero [College feat. Electric Youth]
4. Oh My Love [Riz Ortolani feat. Katyna Ranier]
5. Tick of the Clock [Chromatics]
6. Rubber Head
7. I Drive
8. He Had a Good Time
9. They Broke His Pelvis
10. Kick Your Teeth
11. Where's the Deluxe Version?
12. See You in Four
13. After the Chase
14. Hammer
15. Wrong Floor
16. Skull Crushing
17. My Name on a Car
18. On the Beach
19. Bride of Deluxe
About this product: this is the 10th Anniversary reissue on 2x blue marble and pink marble vinyl.