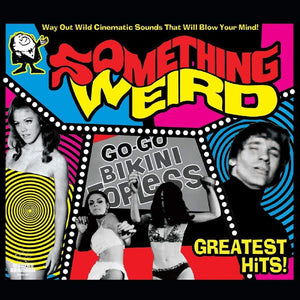 Various Artists - Something Weird - Greatest Hits 2LP
Tax included.
Shipping
calculated at checkout.
---
---
Take an auditory trip through a wacky world of oddball and obscure 'classick' exploitation cinema soundtracks from the 1960s and early 1970s, presented by one of the most beloved genre film video companies of all time… Something Weird!

Two LPs chock-full of oddities and earworms with great sets of liners and track by track factoids!
Something Weird Video was founded in 1990 by Mike Vraney in Seattle, Washington. He was inspired by his teenage job as a theater projectionist. His love for the obscure films that never made it to video prompted him to transfer hundreds of ancient reels of film to VHS and DVD. The company specializes in exploitation/sexploitation films of the '30s through the '70s.
Iconic purveyors of the lost and the strange, Something Weird Video, have partnered with Modern Harmonic to bring you a 2LP of the greatest songs and soundbites from their voluminous catalogue of filth and general grindhouse fodder.
Tracklist:
1. The Hell Raisers [The Syd Dale Orchestra]
2. Mamma a Go-Go [Perez Prado]
3. The Bird is the Word [Rocky Roberts and the Airedales]
4. Hot Blooded Woman [Whit Boyd]
5. Don't Make Me Mad [Lee Dowell]
6. The Wild Scene [The Penny Arcade]
7. Put the Clock Back on the Wall [The E-Types]
8. Is It On - Is It Off [The Bit' A Sweet]
9. The Right Kind [The Jaybirds]
10. Beware of the 4-D Witch [Joe Bisko / Attila Galamb]
11. The Action Scene [Alan Hackshaw]
12. A Sweet Sickness [Raul and the Revelations]
13. It's a Revolution Mother [Mandarin Gate with Chris Martell]
14. Soorangi [Jim Hughes]
15. Bummer [The Group]
16. Musical Mutiny [Trailer]
17. Different Now [The Love Generation]
18. Swinging City (Mood Three) [John Barry and His Orchestra]
19. Johnny's Dive [Robert Farnon]
20. Strip Blues [Bob Freedman and His Orchestra]
21. Jane Bond Theme [Johnny Hawksworth]
22. Mood One [John Barry and His Orchestra]
23. A Taste of Flesh [Opening Credit Theme]
24. Hot Blooded Woman [Incidental Music - The Tony Harrison Trio]
25. My Brother's Wife [Opening Credit Theme]
26. Easy Macumba [Armando Sciascia]
27. Hot Thrills Warm Chills [Opening Credit Theme]
28. Shanty Tramp [Betty Dickinson]
29. Yipes Stripes [The Huntington Astronauts]
30. Speed Lovers [Billy Lee Riley]
31. (Be a) Black Belt [Lee Dowell]
32. The Ladybirds [At the Bunny Blue]
33. I Want a Woman [Tony & et Cetra]
34. Love Cool [John Gabriel]
35. Love Goddess [Neil Patrick]
36. The Female of the Species [Meg Myles]
About this product: this compilation is pressed on 2x yellow vinyl.