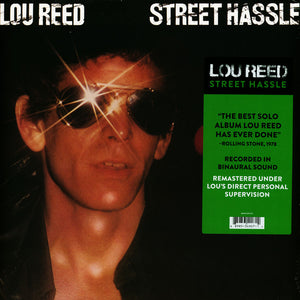 Lou Reed - Street Hassle LP
Tax included.
Shipping
calculated at checkout.
---
---
Crossing the wrong side of the tracks, as most of Lou Reed's albums do, 1978's "Street Hassle" is the angrier, younger sibling to Reed's eloquent, mature "New York", released over a decade later.
The centrepiece of "Street Hassle", the handsome, hypnotic and brutal title track evolves in three 'symphonic' movements, and is a powerful, theatrical precursor to Reed's work with John Cale on "Songs for Drella". Bruce Springsteen makes an uncredited spoken-word appearance in the last movement of the piece, Slipaway, and there's even a touch of E-Street-type brassy groove on Wait.
An album teeming with the lyrical hell of drug addicts and desperate misfits, Street Hassle does possess elements of Reed's pitch-black humour. Gimme Some Good Times playfully samples Sweet Jane, and Reed sings the strangely sunny words of Real Good Time Together against a morbid wash of distorted guitar effects and vocals.
A mix of New York studio recordings and fine live performances recorded in West Germany, "Street Hassle" is a curious and compelling coda to reed's tumultuous and ever-changing '70s word.
Tracklist:
1. Gimmie Some Good Times
2. Dirt
3. Street Hassle (Waltzing Matilda / Street Hassle / Slipaway)
4. I Wanna Be Black
5. Real Good Time Together
6. Shooting Star
7. Leave Me Alone
8. Wait

About this product: this remaster/reissue is pressed on black vinyl.