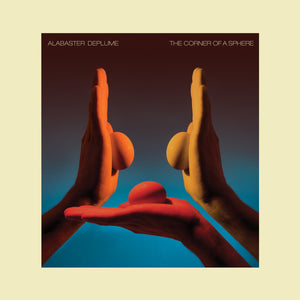 Alabaster dePlume - The Corner Of A Sphere LP
Tax included.
Shipping
calculated at checkout.
---
---
A reissue of London and Manchester based spoken-word artist, writer and saxophonist Alabaster dePlume's sold out album, "The Corner of a Sphere". The album has been nominated for Gilles Peterson's Album of the Year.

"The Corner of a Sphere" is Alabaster DePlume's fourth album to date and his first for Lost Map, following three successful self-releases on vinyl, CD and digital formats in collaboration with Manchester's Debt Records.
Featuring tracks including Is It Enough, a by turns funny and sad take on obsessive consumption and how greed is not a sustainable motive for activity, the whimsically cosmos-gazing They Put The Stars Far Away ("What would you do with the stars? Try and smoke them?") and uplifting ode to humankind at its worse and best Be Nice to People, it's Angus's finest record yet.
"The Corner of a Sphere" is a provocative invitation to reconsider where the distinctions between styles and genres and modes of performance lie, and whether or not we even need those distinctions in any case.
Tracklist:
1. Is It Enough
2. I Want a Red Car
3. They Put the Stars Far Away
4. What Do We Want
5. Did You Ever Hear About the Mau Mau
6. Be Nice to People
7. Who Are You Asking For
8. Not Counting Numbers Obviously
9. The Winner
10. There's Always More
About this product: this reissue is pressed on black vinyl. Includes a download code with bonus album of live recordings, etc.