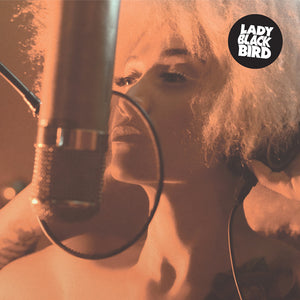 Lady Blackbird - Black Acid Soul LP
Tax included.
Shipping
calculated at checkout.
---
---
The debut album "Black Acid Soul" from Lady Blackbird. It's instant and within a minute you are hooked. Think Nina Simone, Hot Buttered Soul-era Isaac Hayes, Billie Holiday and Chaka Khan. Gilles Peterson called her "the Grace Jones of Jazz".
Minimal yet rich, classic yet timely, the album connects backwards to Miles Davis (his pianist, Deron Johnson, plays Steinway Baby Grand, Mellotron and Casio Synth throughout) and forwards to Pete Tong (he made the Bruise mix of 'Collage' his Number Two Essential Selection tune of 2020).
Its eleven tracks have a sound, feeling and attitude that speak of Lady Blackbird's deep experiences in music, stretching all the way back to infancy. Standout tracks include the sad, elegantly simple tune, Nobody's Sweetheart, plus two killer cuts written by Lady Blackbird and Seefried, Fix It and Five Feet Tall. The former is an elegant piano ballad that sounds like a Great American Songbook standard sung by a woman on the side of the angels. Her ability to nail the song in the studio in minimal takes was clearly something to behold.
The album also includes Wanted Dead or Alive, a rare groove classic recorded by funk/gospel collective Voices of East Harlem in 1973 and co-produced by Curtis Mayfield, an inspired reinvention on the aching It'll Never Happen Again, written by Tim Hardin and a stunning take on Nina Simone's Blackbird.
This is "Black Acid Soul". Are you ready to fly with Lady Blackbird?
Tracklist:
1. Blackbird [Nina Simone cover]
2. It's Not That Easy
3. Fix It
4. Ruler of My Heart
5. Nobody's Sweetheart
6. Collage
7. Five Feet Tall
8. Lost and Looking
9. It'll Never Happen Again
10. Beware the Stranger
11. Black Acid Soul
About this product: this reissue is available on CD and LP formats.
The CD comes in a digipack.
The LP is a reissue is pressed on black vinyl with stereo mastering.