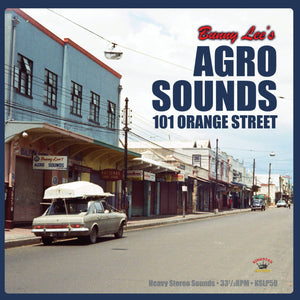 Various Artists - Bunny Lee's Agro Sounds 101 Orange Street LP
Tax included.
Shipping
calculated at checkout.
---
---
Countless incredible records were made in Kingston between 1968 and 1971 that has never been able to lose the stigma of being described as 'Skinhead Reggae', but in Jamaica the term never meant anything. However Bunny Lee's "Agro Sound" is both at home and away. They were tougher than tough, rougher than rough, kicked like a 'bovver' boot and were sharper than a razor cut trim.

Raw, pure and undiluted every time... some even troubled the UK national charts. To say the man and his music dominated at the time would be a complete understatement. Striker was everywhere...travelling between Kingston, where he opened his Agro Sounds record shop at 101 Orange Street and London, where he set up his Unity label with the Palmer Brothers for the exclusive release of his productions and his Jackpot subsidiaries with both Trojan and Pama records.
Ubiquitous does not start to come into it.
Tracklist:
1. Bangarang [Stranger Cole and Lester Sterling]
2. Seven Letters [Derrick Morgan]
3. Without You [Donnie Elbert]
4. Everybody Needs Love [Slim Smith]
5. Cool Operator [Delroy Wilson]
6. King of the Road [U Roy and Lennox Brown]
7. Moon Hop [Derrick Morgan]
8. Ten Thousand Tons of Dollar Bills [The Bunny Lee Allstars]
9. If It Don't Work Out [Pat Kelly]
10. Hold You Jack [Derrick Morgan]
11. Who Cares [Delroy Wilson]
12. Wet Dream [Max Romeo]
13. Joe Razor [Roy Shirley]
14. D.J. Choice [Winston Williams]

About this product: this is pressed on black vinyl.