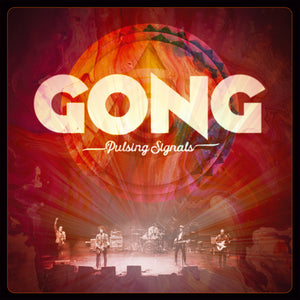 Gong - Pulsing Signals 2CD/2LP
Tax included.
Shipping
calculated at checkout.
---
---
Before he sadly passed away in 2015, founding Gong member, Daevid Allen, laid out his hopes for a future Gong, that it should be uplifting, exploratory and a positive force. Kavus Torabi, Fabio Golfetti, Ian East, Dave Sturt and Cheb Nettles, chosen by him, continue his vision.

"Pulsing Signals", recorded live at The Wardrobe in Leeds, The Cluny in Newcastle and the Rescue Rooms in Nottingham in 2019 during 'The Universe Also Collapses' tour finds the group in spirited form, unbeknownst to them, it being their final tour before the global pandemic took charge.
Owing to Gong being an international band, lockdown and restrictions on travel made it impossible to convene and work on new music. The band received many requests by fans to release a live album and fortunately enough, the band had multitrack recordings of several shows from the 2019 tour. Bassist Dave Sturt went through all the master tapes and selected the best performances which became "Pulsing Signals".
Tracklist:
1. What We Was (Intro)
2. You Can't Kill Me
3. Rejoice!
4. If Never I'm and Ever You
5. Kapital
6. Master Builder
7. Forever Reoccurring
8. My Sawtooth Wake
9. Insert Yr Own Prophecy
About this product: this release is available on 2CD and 2LP formats.
The 2LP is pressed on black vinyl.
The album was recorded by Pete Wibrew and mixed by Frank Byng, while mastering was handled by Andy Jackson.