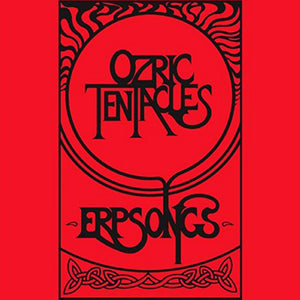 Ozric Tentacles - Erpsongs CD
Tax included.
Shipping
calculated at checkout.
---
---
One of the most influential bands to emerge from the UK's festival scene, the Ozrics layer ambient and ethereal landscapes with freeform dub trips, incredible rave grooves and psychedelic progressive rock. It's an open exploration of music and the soul.

For over 30 years, the Ozrics have experienced the vicissitudes of the rock and roll life. The band has flourished through a number of line-up changes, spawned several side projects, created their own record label, scored a hit record and sold over a million albums world-wide.
And yet, the basic motivation behind the band's existence has never wavered. Their signature blend of hippy aesthetics and raver electronics with spiralling guitars, textured waves of keyboard and midi samplers, and super-groovy bass and drum rhythms continues to delight fans across the world to this day.
"Erpland" was the band's eighth release and was originally released in 1990 and is considered by many fans as one of their finest works.
Tracklist:
1. Velmwend
2. Fast Dots
3. Thyroid
4. Spiral Mind
5. Synth on a Plinth
6. Dharma Reggae
7. Tidal Otherness
8. Erpriff
9. Descension
10. Misty Gliss
11. Dots Thots
12. Clockdrops
13. Five Jam
14. Oddhamshaw