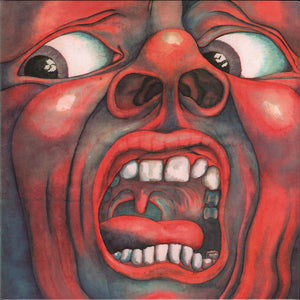 King Crimson - In The Court Of The Crimson King LP
Tax included.
Shipping
calculated at checkout.
---
---
Recorded over a period of ten days in August 1969 and released on 10th October of the same year, "In the Court of the Crimson King" stands as one of the defining albums of British rock music and one of the finest debut albums of all time.

Described at the time as 'an uncanny masterpiece' by Pete Townshend, the album has achieved legendary status over the years. It is the only studio document of an extraordinary year in the life of King Crimson; a year that began with the group's first rehearsals on 13th January, included a residency at the Marquee Club, a concert in Hyde Park with the Rolling Stones, the recording and release of the album and ended with the dissolution of the line-up at the close of Crimson's 1st American tour in December.
In the more than 40 years since its release, "In the Court of the Crimson King" has never been out of print or unavailable in any of the world's main music markets and continues to enjoy consistently high sales.
One of the most anticipated and frequently requested high quality vinyl reissues finally returns to the 12" format complete with its iconic gatefold sleeve. Newly cut from masters approved by Robert Fripp.
manufactured on 200 gram super-heavyweight vinyl. contains bonus mp3 codes giving access to a download of a transfer of an original 1969 pressing.
Tracklist:

1. 21st Century Schizoid Man (Including Mirrors)
2. I Talk To The Wind
3. Epitaph (Including (A) March For No Reason (B) Tomorrow And Tomorrow)
4. Moonchild (Including (A) The Dream (B) The Illusion)
5. The Court Of The Crimson King (Including (A) The Return Of The Fire Witch (B) The Dance Of The Puppets)