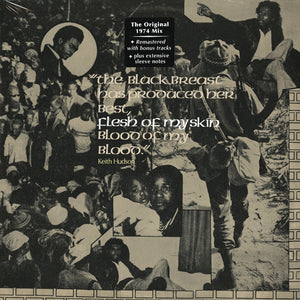 Keith Hudson - The Black Breast Has Produced Her Best... LP
Tax included.
Shipping
calculated at checkout.
---
---
Remastered with bonus tracks. The original 1974 release of Keith Hudson's "Flesh Of My Skin" showcased the enduring strength and pivotal importance of the development of reggae music, Keith Hudson's complete mastery of the genre and the unqualified praise that followed its release was fully justified.
This superb re-master features the original mix available or the first time since the 1974 Mamba pressing and comes with the addition of the 45 only Darkest Night Version and the restoration of the lost My Nocturne omitted from the 1988 and 2004 remix versions. Also includes the previously unreleased 'Hunting Version' as a hidden track. Inner sleeve with liner notes are written by Keith Hudson's official biographer Vincent Ellis.
"The most moving, satisfying piece of Jamaican music I've heard since Catch A Fire and surpasses that album, this is the album of the year without a doubt." Carl Gayle, Black Music Magazine
"One of the best albums to be released this year, it combines strong, heavy rhythms with strong, heavy lyrics." Chris Lane, Blues And Soul.
Tracklist:
1. Hunting
2. Flesh of My Skin
3. Blood of My Blood
4. Testing My Faith
5. Fight Your Revolution
6. Darkest Night
7. Darkest Night Version
8. Talk Some Sense
9. My Nocturne (Talk Some Sense Version)
10. Treasures of the World
11. My Nocturne (Treasures of the World Version)
12. I Shall be Released
13. No Friend of Mine
14. Stabiliser
15. Hunting Version
About this product: this remaster/reissue is pressed on black vinyl.