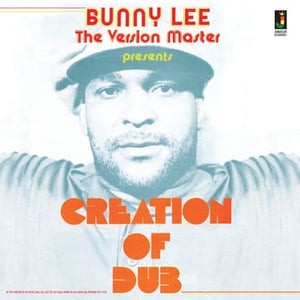 Bunny Lee - The Version Master: Creation Of Dub LP
Tax included.
Shipping
calculated at checkout.
---
---
King Tubby and Producer Bunny 'Striker' Lee are intertwined in the birth of Dub Music. After discovering a mistake that made a 'serious joke' (more of which later...) they went on to release the first pressings of this new musical genre namely 'Dub Music'. Tubby's vast knowledge of electronics and Bunny's vast catalogue of rhythms would lay the foundations of what today is taken as a standard... the Remix / Version cuts to an existing vocal tune.

Osbourne 'King Tubby' Ruddock was born in Kingston, Jamaica on 28th January 1941 and grew up in the High Holborn Street area of downtown Kingston. He studied electronics at Kingston's National Technical College and also on two correspondence courses from the U.S.A... When he had qualified Tubby began repairing radios and other electrical appliances in a shack in the back yard of his mother's home. His work in the early days included winding transformers and building amplifiers for Kingston's Sound Systems.
Tubby built his first Sound System in 1957 playing jazz and Rhythm & Blues at local weddings and birthday parties. His reputation as a man who knew and understood both electronics and music grew steadily and as the sixties drew to a close. Tubby purchased his own basic two track equipment. He installed this alongside his
dub cutting machine, a homemade mixing console and his impressive collection of Jazz albums in the back bedroom of his home at 18 Dromilly Avenue which he christened his music room. Tubby and Striker were at Treasure Isle Studio's one day while Ruddy from Spanish Town was working with the engineer Byron Smith....
"Tubby and myself was talking when Ruddy was cutting some dub but Smithy (engineer) made a mistake through we were talking and forgot to put in the voice. It was two track recording in those days. Ruddy said 'No Man! Make it stay! and so they cut the rhythm. When I went over to Ruddy's that Saturday night a dance
was in progress and when they played the vocal to the tune... then he said we're going to play 'Part Two'. They never called it 'Version'..and then he played the rhythm track. The song was a catchy song and everybody started to sing along and the deejay started to toast so everything went down well. On Monday morning I went up and I said 'Tubbs the mistake we made was a serious joke. It mash up Spanish Town!
The people went wild. So you have to start to do that now 'cause when the man put on the 'Part Two' everyone start singing this song. It played about twenty times. I said you try Tubbs!'...Well the next Saturday night now when Tubby strung up down the farm U Roy said he's going to play 'Part Two' but Tubby did it different now. He started with the voice then dropped it out and let the rhythm run and then he brought in the voice in the middle and from there Tubby started to get really popular.'' - Bunny 'Striker' Lee
Dynamic Sounds upgraded to sixteen track recording in 1972 and Tubby purchased, again with the help of a deal brokered by Bunny Lee. The old four track equipment and the MCI console from their Studio B. The four tracks now gave him far wider scope to work with and he began to create a new musical form where the bass and drum parts were brought up while the faders allowed Tubby to ease the vocal and rhythm in and out of the mix. It was only a matter of time before Tubby's dub plate experiments began to make it on to vinyl and the first ever long-playing King Tubby releases would feature a collection of his mixes to a selection of Strikers rhythms.
So please sit back and enjoy this historic set of sounds, mixed by King Tubby and Mr Prince Phillip Smart and another set of scorcher Bunny Lee rhythms.
Tracklist:
1. Creation of Dub - Creation Rebel / Johnny Clarke
2 Swinging Dub - Put It On / Johnny Clarke
3. Ten Thousand Tons of Dub -10 To One / Johnny Clarke
4. Jamaican Roots Dub - Jamaican Fruits Of African Roots/Sheila Records
5. A Pressuring Dub - Press Along Natty/Cornell Campbell
6. An Inspiring Dub - Soul and Inspiration/Johnny Clarke
7. This Boss of Dub - So Jah Say/Jackie Edwards
8. A Good Good Dub - No Good Girl / Cornell Campbell
9. Dub This Sound - Watch This Sound/Cornell Campbell
10. A Hard Hard Dub - Get Ready/Delroy Wilson
11. Rub This Dub - You Must Believe Me/Delroy Wilson
12. Skanking Dub - You Have Long Long Dreadlocks/ Linval Thompson
13 Don't Cut Off Your Dub Locks - Don't Cut Off Your Dreadlocks/Linval Thompson
14 Give Me Dub - Give Me Love/Johnny Clarke
About this product: this reissue is pressed on black vinyl.