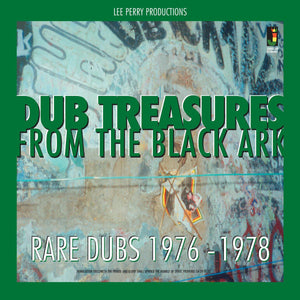 Lee Perry - Dub Treasures From The Black Ark LP
Tax included.
Shipping
calculated at checkout.
---
---
Having his own studio allowed Lee Perry to build up a vast catalogue of tracks to work on. Jamaican Recordings have culled together some lost productions that Lee Perry carried out with singer Mike Brookes, a fine singer, arranger from that special time in the Black Ark's history.

Sounding like Junior Marvin in parts and Max Romeo in others but still carrying a distinctive falsetto voice. Some classic tracks as you can see recorded with the cream of musicians at Lee Perry's disposal. Mr Perry works his magic that gives these songs that distinctive feel that his output carried around the mid 1970s.
Enjoy some more lost treasures from the Black Ark that Jamaican recordings feel should be added to that mighty cannon of material that still sound so fresh and strong today.
Tracklist:
1. Covenant Dub
2. Hold Fast Dub
3. Ox Man Dub
4. Leopard Dub
5. Break Out Dub
6. Running Dub
7. Dub Them Natty
8. Party Dub
9. Hot a Hot Dub
10. Slum Dubbing Mood
11. Fulness Dub
12. Flut in the Dark
13. Culter Dub
14. No Food a Run Dub
About this product: this is pressed on black vinyl.