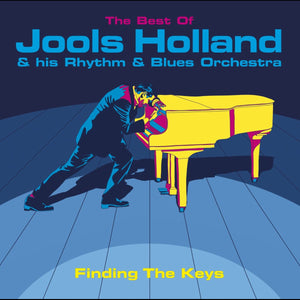 Jools Holland - The Best Of Jools Holland & His Rhythm & Blues Orchestra CD
Tax included.
Shipping
calculated at checkout.
---
---
The current 19-piece Jools Holland and his Rhythm & Blues Orchestra consists of pianist, organist, drummer, three female vocals, guitar, bass guitar, two tenor saxophones, two alto saxophones, baritone saxophone, three trumpets, and three trombones.

They play to audiences in excess of 300,000 each year, touring all over the world, including Australia, New Zealand, Singapore, France, Holland, and Belgium.
Tracklist:
1. Message to My Son [with Solomon Burke and Eric Clapton]
2. 200lbs of Heavenly Joy [with Tom Jones]
3. The Informer [with Ruby Turner, Ash Howes Radio Mix]
4. I've Got News for You [with Michael McDonald]
5. Scorpio Rising [with Chris Difford]
6. Where in the World [with Beverley Knight]
7. I Think It's Going to Rain Today [with David Gray]
8. A String of Pearls (Instrumental)
9. I Went By [with Louise Marshall, Ash Howes Radio Mix]
10. Honeydripper (Instrumental)
11. Seven Acts of Mercy [with Sam Brown]
12. Maybe I Need Her (Live)
13. Blue Guitar
14. I'm So Lonesome I Could Cry [with Richard Hawley]
15. Boring [with Ruby Turner]
16. Odd Man Out (Demo)
17. Dead Hosts Welcome [with Dr. John]
18. Waterloo Bridge [with Louise Marshall]
19. Loutette [with Norman Wassberg]
20. Moving Out to the Country [with Solomon Burke]
About this product: this CD is housed in a jewelcase.