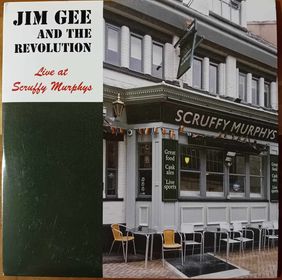 Jim Gee And The Revolution - Live At Scruffy Murphys CD
Tax included.
Shipping
calculated at checkout.
---
---
"Hello, we are Jim Gee on guitars/vocals, Cameron on bass and Nigel Hopkins back on drums. We write and play our own original material which is mainly punk rock with influences from the likes of the Ruts, Clash, Pistols, The Damned and punk-poet Patti Smith. I was a frontman in Angels and Images in '83 & '84.

"We formed in 2014 and are recording our fifth album also an Angels and Images studio fan club CD from '83/'84. We have played with lots of bands including Subhumans, Borrowed Time, Citizen Fish, Two Sick Monkeys, 50 Shades, Vice Squad, Conflict, Zounds and Virus, A Heads, Omega Tribe."
Tracklist:
1. Category A
2. Pills
3. Blank Generation
4. Psycho Bitch from Hell
5. Punk Patrol
6. Pagans
7. Traveller Site
8. Strong Heart
9. Taking the Piss
10. 28 Days
11. Politics
12. Drunk
About this product: this CD is housed in a card slip.