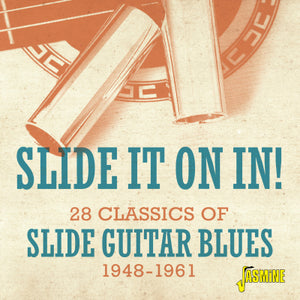 Various Artists - Slide It On In! 28 Classics Of Slide Guitar Blues 1948-1961 CD
Tax included.
Shipping
calculated at checkout.
---
---
The slide guitar technique found popularity during the late 1920s and the 1930s especially in the Mississippi delta as many musicians began to look for individual styles to enhance their popularity.

The 28 tracks here feature some of the greatest exponents of the style on a selection of tracks that may not have been hits or even in some instances have been released until many years after their recording. Several of the names like John Lee, John Dudley, Dan Pickett and Pinetop Slim are little known outside of blues collector circles. Others though did enjoy fame across the world for their music and records like, Muddy Waters, Robert Nighthawk, Johnny Shines and Homesick James.
Compiled and conceived by noted blues expert, Neil Slaven. Includes fully detailed liner notes.
Tracklist:
1. You're Gonna Miss Me (When I'm Dead and Gone) [Muddy Waters]
2. Sweet Black Angel [Robert Nighthawk] 
3. Blind's Blues [John Lee]
4. Baby, How Long? [Dan Pickett]
5. Applejack Boogie [Pinetop Slim]
6. Johnnie Mae [Homesick James]
7. Florida Hurricane  [St. Louis Jimmy]
8. My Woman Has a Black Cat Bone [Hop Wilson]
9. The Moon is Rising [Robert Nighthawk]
10. Single Man Blues [Frankie Lee Sims]
11. Ramblin' [Johnny Shines]
12. Chicago Blues [Dan Pikett]
13. Homesick [Homesick James]
14. Po' Boy Blues [John Dudley]
15. Fast Life [Pinetop Slim]
16. Down at the Depot [John Lee]
17. Crying Won't Help You [Robert Nighthawk]
18. That's Grieving Me [Dan Pickett]
19. Late Hours At Midnight [Homesick James]
20. I'm Gonna Carry On [Pinetop Slim]
21. Don't Forget Me Baby [Frankie Lee Sims]
22. Annie Lee Blues [Robert Nighthawk as The Nighthawks]
23. Fishtail [Johnny Shines]
24. Early One Morning [Dan Pickett]
25. Merry Christmas, Darling [Hop Wilson]
26. War Me [Homesick James]
27. Poor Boy [Pinetop Slim]
28. My Baby is Coming Home [Hound Dog Taylor]