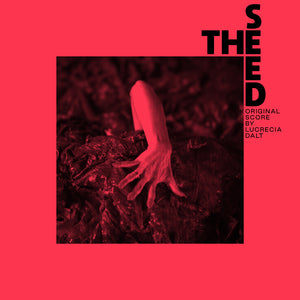 Lucrecia Dalt - The Seed OST LP
Tax included.
Shipping
calculated at checkout.
---
---
Lucrecia Dalt's debut film score to The Seed, a sci-fi horror film directed by Sam Walker on Shudder. Pressed on black vinyl and housed in a deluxe spined sleeve with printed insert and download card included.

"The score is heavily based on pulses that I made from tape loops from my Copicat tape delay, using various pieces of metal to create the sound of the horror parts by bowing them alongside digital synths and the Korg Monologue." Says Lucrecia Dalt. "I wanted to play with the feeling of multiple paces in it, a voice pulse that keeps us grounded in the subjectivities of the women who are losing their sanity, a synth line that places us in the sci-fi side of the film," she explains.
The Seed's release follows the Colombian artist's collaboration with Aaron Dilloway, Lucy and Aaron, her acclaimed 2020 album "No era sólida" (RVNG Intl), a site specific performance for the Mies van der Rohe Pavilion in Barcelona, plus sound installations for CTM Festival and Medellín's Museum of Modern Art. Often seeking inspiration in the worlds of fiction, poetry, geology and desire, excavating nuanced references to untangle and respond to in her music, Dalt's debut score is incredible stand-alone piece of work.
In The Seed lifelong friends Deidre (Lucy Martin / Vikings), Heather (Sophie Vavasseur / Resident Evil: Apocalypse) and Charlotte (Chelsea Edge / I Hate Suzie) travel to the Mojave Desert for some time away with the upcoming meteor shower as the perfect social media backdrop. But what starts out as a girls' getaway descends into a battle for survival with the arrival of an invasive alien force whose air of mystery soon proves to be alluring and irresistible to them.
Tracklist:
1. Panspermie
2. No One Around
3. Blob on the Lawn
4. The Gardener
5. They Shoot Horses
6. Blob Lands
7. Sisyphus
8. Perseids
9. Anabolic Alien
10. Magnetic Kiss
11. Alien Lullaby
12. Pink Pool
13. Meat Carpet
14. Liminal Menace a Trois
15. Wraith
16. Gerasene Demoniac
17. Crawling Tentacles
18. Venutian Offspring
19. Face Sponged
20. Xenomorph Killing
21. Chasing Heather
22. Chasing Dee
23. O! Bad Shot
24. Black Matter Tears
25. Squid Lady
26. Leonids Temple
About this product: this release is pressed on black vinyl. Includes a download code.