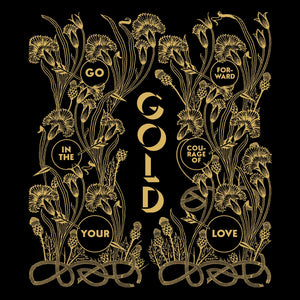 Alabaster Deplume - Gold LP
Tax included.
Shipping
calculated at checkout.
---
---
"Gold", the follow-up to Alabaster DePlume's widely-acclaimed, 2020-released cinematic instrumental LP "To Cy and Lee: Instrumentals Vol. 1", introduces the world to the artist's truest self. That is... though DePlume's now known across the globe as the saxophonist who created that collection of wonderful, wordless music, he's most known to fervent fans in his home zone of London, UK, as an outspoken poet and orator, beloved for his inspiring words of encouragement and sing-a-long-able songs about vulnerability, humanity, and courage.

"Gold" is a sprawling double album that finds DePlume expressing both sides of his artistic character beautifully: (1) an articulate singer and songwriter who invokes the melodious crooning of Donovan as much as Devendra Banhart or Syd Barrett, whose tunes are almost like mini-sermons, full of existential comedy and spiritual enlightenment; and (2) a brilliant composer of simple, soothing, and viscerally nourishing instrumental melodies, with a gift for expanding them into intrepid collective improvisations, led by a delicate and distinguished saxophone tone that conjures the fluttery sweetness of the great Ethiopique Getatchew Mekurya.
Tracklist:
1. A Gentle Acaba (Vento Em Rosa)
2. Don't Forget You're Precious
3. Fucking Let Them
4. The World is Mine
5. The Sound of My Feet on This Earth is a Song to Your Spirit
6. I'm Gonna Say Seven
7. Do You Know a Human Being When You See One?
8. Visitors YT15B - Jerusalem, Palestine
9. I'm Good at Not Crying
10. Now (Stars are Lit)
11. Again [feat. Falle Nioke]
12. Mrs Calamari
13. People: What's the Difference?
14. Visitors XT8B - Oak
15. Who is a Fool
16. I Will Not be Safe
17. Visitors YT15 - Krupp Steel Condition Pivot
18. Broken Line
19. Now (Pink Triangle, Blue Valley)
About this product: this release is pressed on 'Eye of the Sun' coloured vinyl.