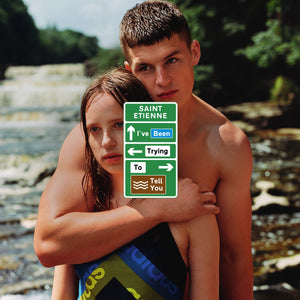 Saint Etienne - I've Been Trying To Tell You LP
Tax included.
Shipping
calculated at checkout.
---
---
Saint Etienne return with their 10th album and prove they are still utterly essential. Saint Etienne have always understood that pop music is the nearest thing we have to time travel, the closest we can get to breathing the air of a different time.

On this album, they take that theory to its logical conclusion. "I've Been Trying To Tell You" uses sounds and samples from 1997 to 2001, evoking the folk memory of the period by using and twisting recordings from the time, re-working them into new songs. "They're all by people you'd have heard on daytime Radio 1 or 2 at the time," Bob clarifies, "not Boards of Canada or anything." Opening track Music Again, for example, begins with some gorgeously poignant electric harpsichord from a long-forgotten R&B hit.
For the first time, Saint Etienne didn't record together in a studio. The album was completed remotely, in Hove (Pete), Oxford (Sarah) and Bradford (Bob, in collaboration with film and TV composer Gus Bousfield, who contributes to a number of tracks). Communication was handled via Zoom meetings and emails.
"I've Been Trying To Tell You" has an internal unity, its heartbeat always at the low end of mid-tempo/high end of downtempo, landing at the approximate pace of Tricky's "Pre-Millennium Tension" (an album released on the very cusp of the era in question). This helps sustain the dream-state.
That hypnagogic sensation is enhanced here and there by the eerie sound of seagulls and garden birds. It's like falling asleep listening to Minnie Riperton's Lovin' You and coming a-dreamwake in Kew. This, it turns out, is another turn-of-the-millennium reference. "In the early series of Big Brother," Bob explains, "when Channel 4 used to broadcast live from the house in the daytime, they'd dip out the sound whenever the housemates talked about real life people, or swore or whatever, and they'd replace the sound with quite avant-sounding field recordings of birdsong."
The lyrics, too, obey the fractured logic of dreams. Sarah Cracknell sings in short phrases - 'here it comes again', 'never had a way to go', 'ruby dust', 'a love like this again' - looped and repeated, rather than a traditional verse-chorus-verse structure. "They are all snatched phrases that could have been used at the time," Bob explains, "from news items, or songs, or magazines."
The album's centrepiece is arguably Little K, the fourth track of eight, a six-minute oneiric ocean which ends with the sound of lazily lapping waves. The words that filter through the haze are ones which define the album: "No reason to pretend. In my reverie, the mind will carry me..."
The reverie has interludes with no words at all, at least not sung. Blue Kite, made from backwards strings and synths and bassy beats from the room next door, is entirely instrumental, as is I Remember It Well apart from snatches of mysterious voices which evoke childhood holidays.
Some tracks, like some dreams, are simply too strange for analysis: the inscrutably-titled Penlop (a Tibetan term which translates loosely as 'governor') has a refrain which appears to run "I don't really know you / But I'd like to show you / Chester town / We went all around..."
Tracklist:
1. Music Again
2. Pond House
3. Fonteyn
4. Little K
5. Blue Kite
6. I Remember It Well
7. Penlop
8. Broad River

About this product: this is the Indie Store Exclusive on 'Crystal Clear' vinyl, housed in a gatefold sleeve. Includes a download code.