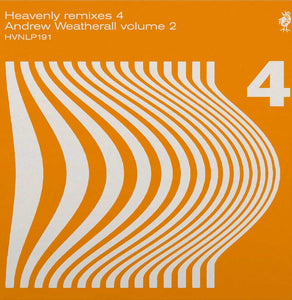 Various Artists - Heavenly Remixes 4 (Andrew Weatherall Volume 2) 2LP
Tax included.
Shipping
calculated at checkout.
---
---
Heavenly Recordings release Heavenly Remixes Volumes 3 and 4 (Andrew Weatherall Remixes), a brace of compilation albums collecting together some of the finest remixes from the label's long-time friend, collaborator and go-to remixer.

By the time Heavenly was born in the spring of 1990, Andrew Weatherall was already an inspirational sounding board, as well as a fellow traveller on the bright new road that stretched out ahead thanks to the massive cultural liberation of acid house. Back then every energised meeting could be turned into a fortuitous opportunity in this burgeoning new underground economy. Bored of your job? Start playing records out! Start a club night! Get in the studio! Start a label! Just don't stand still. Commandments Andrew would follow for the rest of his life.
At the start of things, Andrew was a regular visitor to Capersville — the pre-Heavenly press office run by label founder Jeff Barrett (soon to become Andrew's manager). It was there that he famously picked up a copy of Primal Scream's unloved second album and singled out a track that would later become Loaded, after being given an instruction to 'fucking destroy' it by the band's Andrew Innes; it was there too that the idea to remix the first Heavenly release came about.
Between 1990 and his untimely death in 2020, Andrew fed more Heavenly bands through the mixing desk than those of any other label. Consistently, he returned visionary music to the office, often in person for (at least) one ceremonial playback — a ritual that would involve the volume cranked up high and Andrew rocking back on his heels, eyes closed, lost in the alchemy of it all.
Each time, he would warp and twist originals into beautiful new shapes — elasticated club records that might evoke Detroit techno one second and Throbbing Gristle the next, before wheel-spinning into something akin to The Fall produced by King Tubby.
Andrew's studio adventures would always be guided by that early advice to destroy the source material. It's why he was the first name that came up when remixes were discussed; the first number on the speed dial. Listening back to these remixes now — to thirty years of glorious outsider sounds — it bangs home again just how fucking good Andrew was.
Tracklist:
1. Dance Your Life Away (Andrew Weatherall Remix) [audiobooks]
2. Heart Failed (In The Back of a Taxi) – (Two Lone Swordsmen Dub) [Saint Etienne]
3. Compulsion (Andrew Weatherall Remix) [Doves]
4. Dead And Gone (Andrew Weatherall Remix) [TOY]
5. Out The Window (Andrew Weatherall Remix) [Confidence Man]
6. Gandhi (Andrew Weatherall Remix II) [LCMDF]
7. Bonita Manana (Sabres Of Paradise Remix) [Espiritu]
8. Devils Angels (Andrew Weatherall Remix) [Unloved]
About this product: this release is pressed on 2x 180g vinyl.