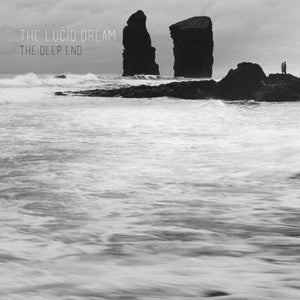 The Lucid Dream - The Deep End LP
Tax included.
Shipping
calculated at checkout.
---
---
Following on from 2018's acclaimed "Actualisation", "The Deep End" builds upon the acid house influences of the former but ventures into many new paths. Hip hop, techno, drum 'n' bass and other 'genres' sneak into the creative palette whilst also staying true to the band mantra of throwing the rule book out of the window, as far as 'genres' or 'boundaries' are concerned.
The album was again recorded at Whitewood Studios, Liverpool, with Rob Whiteley, the album produced alongside long-time collaborator Ross Halden (Ghost Town Studios, Leeds) with frontman Mark Emmerson, with mastering via Dean Honer (All Seeing I/I Monster/The Moonlandingz).
Lead track CHI-03 gives the album its first sucker punch moment. A track born out of listening to late 80s hip hip records on loop before allowing the 303 to take on the co-lead vocal role alongside the addition of the sampler. Leave Me in the Dark takes a 7-minute journey that taps into places the band have been before. No mean feat when that is a melting pot of dub, drum 'n' bass, jungle and enough raw power to know that this is a Lucid Dream track.
Side 2 kicks off with Fight to Survive, a beat belonging in 80s New York, keys more suited to the East Coast counterparts of the time, another statement. 'It's a campaign of hate, campaign of hate'. Sunrise then takes the album on another tangent. The Lucid Dream tapped into acid house on "Actualisation" but this track is acid/Balearic in its purest form, another that begs for communal celebration when the opportunity permits.
High and Wild closes the album. The 9 minutes within don't share the optimism and 'highs' displayed in the 35 minutes prior but doesn't suffer any for it either. The most 'conventional' and only guitar-based song on the album, this track won't be found near a dance floor - instead more suited for the days after, when the highest highs bring the real lows.
Tracklist:
1. Coalescence
2. CHI-03
3. Leave Me in the Dark
4. Fight to Survive
5. Sunrise
6. High and Wild
About this product: this is pressed on standard black vinyl, limited pressing of 500 copies.