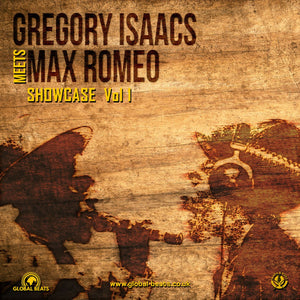 Gregory Isaacs Meets Max Romeo - Showcase Vol. 1 LP
Tax included.
Shipping
calculated at checkout.
---
---
The tracks on this latest Global Beats' showcase album, produced by Mafia and Fluxy, have been chosen for their relevance and enduring ability to liven up any roots session. They're timeless, but then we're talking about profound message songs; vocal performances steeped in authenticity, and deep, heavy rhythms that effortlessly blur any distinctions between reggae's old and new schools. The full force of such regal backdrops can be heard at its best in the dub mixes that accompany each track, making this album even more irresistible to selectors and serious collectors alike.
In terms of character, lifestyle and demeanour, there was a world of difference between these two Jamaican reggae legends. Gregory Isaacs's arsenal of tender love songs, coupled with impeccable dress sense, earned him a fervent female following but there was darker side to the Cool Ruler's talents, as featured here. Down the Line is about police harassment and Wah Dee a convict's lament, whilst Motherless Children, which he first voiced for Sly and Robbie, is a stark and chilling account of the inequality that continues to divide us.

Max Romeo is strictly low-key by comparison but he has the same gift, and is no less outspoken when it comes to speaking truth to power. He's a graduate of Lee "Scratch" Perry's Black Ark whose breakthrough hit was a bawdy ditty banned by the BBC, and nothing at all like the insightful roots songs and social commentaries that later came to define him. He's advocating repatriation to Africa on The More the Merrier and No Peace, whilst Reverend is a scathing attack on organised religion, and voiced over another of Mafia and Fluxy's thunderous rhythms.
Tracklist:
1. Down the Line [Gregory Isaacs]
2. Dub Down the Line
3. Motherless Children [Gregory Isaacs]
4. Motherless Dub
5. Wah Dee [Gregory Isaacs]
6. Wah Dub
7. Reverant [Max Romeo]
8. Reverant Dub
9. More the Merrier [Max Romeo]
10. Dub the Merrier
11. No Peace [Max Romeo]
12. No Peace Dub

About this product: this release is pressed on black vinyl.