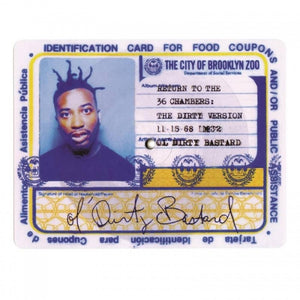 Ol' Dirty Bastard - Return To The 36 Chambers 2LP
Tax included.
Shipping
calculated at checkout.
---
---
Ol' Dirty Bastard rose to fame in the world renowned Hip Hop gang Wu-Tang Clan. His vocal input in Wu-Tang's Enter The Wu-Tang added comic relief and unpredictability to the overt gangsta lyrics, so when producer RZA worked with him to capitalize on his unique style on his own solo album, ODB jumped (probably literally) at the chance.

"Return To The 36 Chambers" (1995) is chock full of his rants, growls, schtick and off-beat rhymes. After release, Shimmy Shimmy Ya and Brooklyn Zoo quickly became true Hip Hop classics. An entertainer in his own right, Dirty was perhaps one of the realest rappers out there.
Tracklist:
1. Intro 
2. Shimmy Shimmy Ya
3. Baby C'mon
4. Brooklyn Zoo
5. Hippa to da Hoppa
6. Raw Hide [feat. Method Man and Raekwon]
7. Damage [feat. GZA]
8. Don't U Know
9. The Stomp
10. Goin' Down
11. Drunk Game (Sweet Sugar Pie)
12. Snakes [feat. Killer Priest, RZA, Master Killa and Buddah Monk]
13. Brooklyn Zoo II (Tiger Crane) [feat. Ghostface Killah and Killer Priest]
15. Proteck Ya Neck II The Zoo 
16. Cuttin' Headz [feat. RZA]
17. Dirty Dancin' [feat. Method Man]
18. Harlem World
About this product: this is pressed on 2x black vinyl.