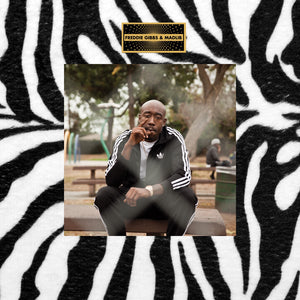 Freddie Gibbs & Madlib - Piñata 2LP
Tax included.
Shipping
calculated at checkout.
---
---
Freddie Gibbs is the product of violent, drug-laden streets but unlike most rappers with similar resumes, he brings the block to the booth without inhibition or an exaggerated rap persona.
"Piñata", a 17 track collaboration with producer Madlib, is the best distillation yet of his transparent approach to making music, combining an at times stark honesty with electrifying talent as a lyricist and performer. "Piñata" is 'a gangster Blaxploitation film on wax,' says Gibbs, who came up on the streets of Gary, Indiana, the disregarded city previously best known for producing Michael Jackson.
Here he is joined by Mac Miller, Earl Sweatshirt, Raekwon, Scarface, Domo Genesis, Ab-Soul and a host of others in setting his soliloquies of the streets alongside film snippets and dusted funk, soul and prog musical tapestries.
Tracklist:
1. Supplier
2. Scarface
3. Deeper
4. High [feat. Danny Brown]
5. Harold's
6. Bomb [feat. Raekwon]
7. Shitsville
8. Thuggin'
9. Real
10. Uno
11. Robes [feat. Domo Genesis and Earl Sweatshirt]
12. Broken [feat. Scarface]
13. Lakers [feat. Ab-Soul and Polyester the Saint]
14. Kicks
15. Shame [feat. BJ the Chicago Kid]
16. Watts [feat. Big Time Watts]
17. Piñata [feat. Domo Genesis, G-Wiz, Casey Veggies, Sulaiman, Meechy Darko and Mac Miller]
About this product: this reissue is pressed on 2x black vinyl, housed in a single sleeve.