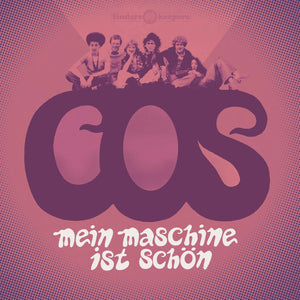 COS / Daniel Schell & Dick Annegarn - Mein Maschine Ist Schön / The ff BOOM 7"
Tax included.
Shipping
calculated at checkout.
---
---
Compact in name but wide-eyed in nature, it's understandable how the 70's band known simply as COS has remained trapped in the tight cracks between pop stardom and prog indulgence where other like minded names like CAN, Zao, Neu! And Egg have managed to squeeze into gaps of your record collection. In presenting one of the band's most infectious and potentially crossover legible tracks on this exclusive user-friendly 45, COS mastermind Daniel Schell not only breaks an unlikely new format for this lesser-known femme-fronted, electro/jazz fusion/prog pop opera/would-be disco cinematic six-piece but also sends a sonic telegram to a new generation of futurist pop aficionados ready to explore the deep realms of his band's dense, expansive and consistently rewarding catalogue.
Placing the microscope over the central motif of the band's onomatopoeic 1978 triptych known as Mein Maschine Ist Schön (My Machine Is Beautiful) this very rare proposed single edit from the group's third album combines the type of warm, brooding, discoid funk and nymphish Morse code vocals that unite fans of Stereolab, Curved Air, Jan Hammer, Emerald Web and Ursula Dudziak not to mention Schell's own close friends, the aforementioned, Hollander, Moulin and Placebo.
A prog rock 45 might sound like a contradiction in terms but with a band like COS you can only expect them to defy convention. Backed here with another deeply conceptual sliced of deep orchestral symphonic psych from Schell's short-lived FF Boom project from the previous year this suitably compact introduction to your new favourite COSmonauts provide digestible versions of some of Schell's finest moments and clears the decks for future explorations of a wider musical universe waiting to be explored.
Tracklist:
1. Mein Maschine Ist Schön [COS]
2. The ff BOOM [Daniel Schell & Dick Annegarn]
About this product: this is pressed on 7" black vinyl.