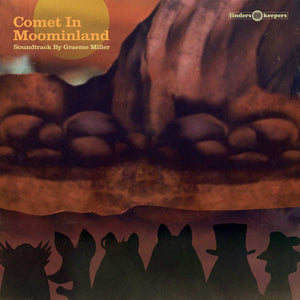 Graeme Miller - Comet In Moominland LP
Tax included.
Shipping
calculated at checkout.
---
---
From deep in the heart of Moomin Valley, frozen in time for many midwinters passed, comes a genuine treasure chest of never heard Moomin melodies and instrumental comet songs composed for the continued animated adventures of our Fuzzy-Felt freak folk friends who disappeared from UK TV pastures in the mid-1980s.

From the top of the Hobgoblin's Hat and the bottom of Snufkin's satchel, original Moomins composer Graeme Miller ('The Carrier Frequency') kindly shares this patchwork selection of spellbinding sound poems and percussive peons made using the very same selection of ocarinas, kalimbas, miniature squeak boxes, Waspy synths, cornflake box shakers and a seemingly endless array of talent and lo-fi home studio trickery.
Regarded as one of the most enigmatic, beguiling and haunting imported children's programmes to ever grace UK TV screens, 'The Moomins' was one of the first-ever commissions by Anne Wood ('The Teletubbies') who ingeniously replaced the original Polish/Austrian/Finnish soundtrack with homemade music experiments by unknown post-punk theatre students Graeme Miller and Steve Shill (aka The Commies From Mars) who, after the screening of two unforgettable series in 1983 and 1985, were left in eager anticipation of rescoring further Moomin adventures with new melodies, arrangements and sound designs, which then lingered in the ether waiting until the Groke awoke and Snorkmaiden sang once more.
With future felt adventures screened exclusively in Poland and Germany for many years (often as feature films) these unheard recordings are the only genuine musical sequel to the bizarre UK version of 'The Moomins' and stand as important inclusions in Graeme Miller's own portfolio of theatrical theme music and sound installations as part of The Impact Theatre Cooperative, including collaborations with artists and writers such as Russell Hoban.
Witnessed in fragmented form during a short run of incredible rare live screenings at The Barbican Theatre and various film festivals, this record marks the first time this music has been heard in its original full-length form, free from sound effects, dialogue and whimpers of euphoric joy and nostalgia from those who have continued to crave the company of our Moomintrolls and their mysterious music over the last five decades.
Tracklist:
1. The Moomins (Occarina Theme)
2. Raft Journey
3. The Cave
4. Climbing the Lonely Mountain
5. The Moomin Hornpipe (Part One)
6. Woodland Band (Parade)
7. The Observatory (Unabridged)
8. Locusts
9. The Moomin Hornpipe (Part Two)
10. Indigenous Woodland Band
11. The Tornado
12. The Moomins End Titles (Ocarina Theme)
About this product: this release is pressed on black vinyl.