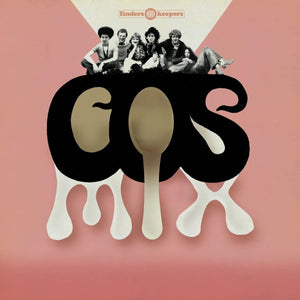 COS - COSMIX 2LP
Tax included.
Shipping
calculated at checkout.
---
---
COS might not be the first genre defying progressive music group you've heard who share both wordless onomatopoeic vocals and a snappy three letter title (complete with philosophical leanings and alchemic penchants) but on listening to this first ever custom COS compendium you might have just discovered a new favourite.

Perhaps it's no coincidence that COS share close spiritual, stylistic or social connections to the aforementioned bands, as one of the few long-withstanding single-syllable ensembles to remain utterly idiosyncratic and incomparable within their hyper-focussed and impenetrable creative bubble.
But as a 1970s group that effortlessly mix head-nod prog, synth-driven jazz, cinematic sound-designs, dislocated disco, Arkestral operatics and high-brow conceptual anti-pop grooves, it's easier to remember the name COS than thumb the vast amount of genre-dividers in your local record shop which COS could occupy.
With the crème de la crème of Belgian jazz / prog / psych / funk within their ranks, their combined idea-to-ability ratio litters the COS-ography with concepts that aficionados, fans, collaborators and critics still haven't began to unravel.
Tracklist:
1. Oostend, Oostend
2. Postaeolian Train Robbery
3. Flamboya
4. Nog Verder
5. Mein Maschine Ist Schön
6. Boehme
7. Halucal
8. Good Wind
9. L'Idiot Léon
10. Babel
11. Einstein, J't'aime
12. Achtung TV-Watchers
13. Amafam
14. Perhaps Next Record
About this product: this is pressed on 2x black vinyl.