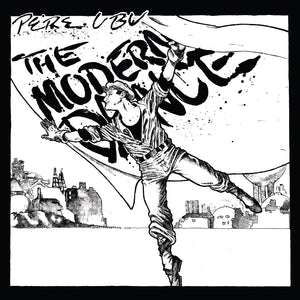 Pere Ubu - The Modern Dance LP
Tax included.
Shipping
calculated at checkout.
---
---
It is hard to believe that such noises could come from so deep in America's heartland, played by a group named after a french absurdist play. The debut album by Pere Ubu, "The Modern Dance" is the realization of group leader David Thomas's (aka crocus behemoth) high-concept vision of a rock band whose sound was always just on the verge of falling apart.

Avant-garde and not terribly accessible, the album's noisy anarchy was a tonic for punks and intellectuals sick of the bloated, corporate sound that passed for commercial rock at the time. it became a major influence on the leading alternative bands of the following decade, including the Pixies and Husker Du.
Pere Ubu's mighty debut recorded back in 1977 and originally released on blank records in '78 in America and on Mercury (and later Rough Trade) in the UK, and now released through Fire for this reworking Paul Hamann at Suma has transferred from the original 2-track analogue mix tapes to digital at the highest resolution available, which is at least four times the resolution of the original. The tracks have carefully been re-mastered by sonic architect Brian Pyle so as to capture the unique qualities within.
Tracklist:
1. Non-Alignment Pact
2. The Modern Dance
3. Laughing
4. Street Waves
5. Chinese Radiation
6. Life Stinks
7. Real World
8. Over My Head
9. Sentimental Journey
10. Humor Me
About this product: this reissue is pressed on limited white vinyl.