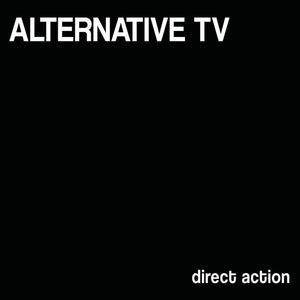 Alternative TV - Direct Action LP
Tax included.
Shipping
calculated at checkout.
---
---
Since their formation in 1977 Mark Perry's group Alternative TV have moved far away from their more direct punk rock beginnings into all manner of other areas of music that have sometimes themselves drawn from improvisation, free jazz, industrial and electronic music. On "Direct Action", Alternative TV's first studio album since "Opposing Forces" in 2015, we are presented with six instrumental tracks which steadily rip apart all expectations as they shed all allusions to rock music in favour of the kinda sonic mutilations that once helped 1979's classic (and Nurse With Wound list endorsed). "Vibing Up the Senile Man (Part One)" stumble into weird and wonderful shapes.

"Direct Action" marries guttural electronics to sounds most artists would consign to the bin and through Perry's long perfected mastery of pulling together disparate strands to create something entirely alchemical and invigorating delivers a unique stamp to the ATV story. With the help of longtime collaborator Dave Morgan alongside the input of Gareth Matthews, Ruth Tidmarsh and Cos Chapman, abstract patterns of dishevelled sound rub alongside occasional percussion, disembodied plasma guitar strums and even what seems like an oboe groaning in a murky corner.
Similar to its distant cousin of "Vibing"…, everything adds up to a whole that's demanding yet completely rewarding as every listen prises open the dark scab of contemporary malaise to reveal something fresh. The front cover's homage to an incredible album by a pioneering electronic group we are not going to name should in itself point to the unpredictable nature of the music here. If you are savvy enough to get that reference, then you're on the right path to understanding where "Direct Action" resides. Easy listening this ain't.
Tracklist:
1. The Hammer
2. Causewayhead
3. Saudade
4. Free the Nipple
5. Cornelius C
6. Direct Action
About this product: this release is pressed on black vinyl. Limited pressing of 600 copies.