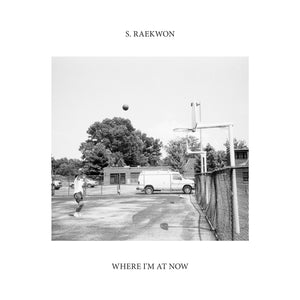 S. Raekwon - Where I'm At Now LP
Tax included.
Shipping
calculated at checkout.
---
---
S. Raekwon, born Steven Raekwon Reynolds on July 10, 1995, is a singer/songwriter and producer from New York City by way of Buffalo, NY.

The S. Raekwon project finds Reynolds documenting traces of a life both affected and infatuated by the power of difference. Reynolds' journey began as a biracial Black boy in working-class Buffalo. He never met his father and grew up with a white mother who loved musical theatre and playing piano. He didn't cut his teeth via a DIY scene, or in bands with neighbours and classmates; the isolation gave him space to channel his guarded nature into a freedom forged by the noises in his head.
Recorded between New York City and a six-month stint at his girlfriend's parents' home in Edwardsville, IL during the pandemic, "Where I'm at Now" is the album S. Raekwon made for himself with a clarity that arrived as he located his missing pieces in the world.
Delicate as his approach may be, chaos truly underscored the two working years as Reynolds not only moved to lift the weight of the world off his spirit but connected with his roots. Completely self-produced and self-recorded (save for drums on two songs,) the music's driven by the relentlessness of the East Village and the quiet serenity of Edwardsville. The abstractions of his earlier musings transform into a warm wave of genreless coherence, drawing influences from across R&B, rock, folk, and pop to build a record that shines in its quiet spaces as much as its sweeping movements.
Simply put, "Where I'm at Now" is an album where S. Raekwon is no longer invested in hiding. These records don't contain answers, but signals toward what feels like the right direction. This music serves as a gentle, yet intentional reminder that we only need to be who we are in the moment, and we're worth becoming who we know we can be.
Tracklist:
1. Darling
2. Do You Feel the Same?
3. Kissing Behind Your House
4. Anywhere 4 U
5. It's No Nothing
6. T.D.T.K.A.
7. After the Party
8. Forever
9. Darling (Reprise)
10. Don't Leave
About this product: this is pressed on opaque 'Yellow Custard' vinyl.