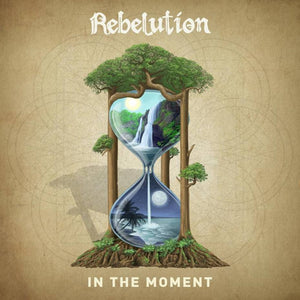 Rebelution - In The Moment 2LP
Tax included.
Shipping
calculated at checkout.
---
---
Over the past sixteen years, Rebelution has had nearly everything a band could ask for: chart-topping albums, hundreds of millions of streams, even their own festival in Jamaica.The only thing they haven't had, it seems, is time.

"When COVID hit, we found ourselves in uncharted territory," says frontman Eric Rachmany. "Suddenly we were just sitting still, which was a completely new experience for us." Difficult as it was to leave the road behind, pressing pause proved to be a blessing in disguise for a band that has emerged from lockdown with their most captivating, eclectic record to date: "In The Moment".
Recorded remotely in the midst of the pandemic, the collection is deliberate and wide-ranging, infusing the quartet's soulful, exhilarating brand of modern reggae with addictive pop hooks, alt-rock grit, and hip-hop grooves. The performances here are bold and self-assured, and the production is equally ambitious, drawing on swirling reverb and trippy delay to create an immersive sonic universe that's both futuristic and vintage all at once.
Strip away the intoxicating atmospherics, though, and what remains is a work of profound reflection, a probing, revelatory meditation that balances joy and introspection in equal measure as it contemplates the meaning of time and invites us to sit back, slow down, and live In The Moment.
Includes guest appearances by Busy Signal, Kabaka Pyramid, Durand Jones, and Keznamdi.
Tracklist:
1. Satisfied
2. Old School Feeling
3. Heavy as Lead
4. To Be Younger
5. Initials
6. 2020 Vision [feat. Kabaka Pyramid]
7. All or Nothing [feat. Busy Signal]
8. You and I
9. Adapt, Survive
10. Future Depends
11. That Zone [feat. Durand Jones]
12. Simply Captivating 
13. Places Unknown [feat. Keznamdi]
14. What Life Is
15. To Be Younger (Acoustic)
About this product: this release is pressed on 2x black vinyl.