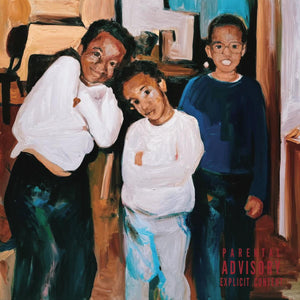 Benny The Butcher - Tana Talk 4 CD/2LP
Tax included.
Shipping
calculated at checkout.
---
---
Benny The Butcher blazed a trail as an elite voice in rap's underground to become a top artist in all of music. The prolific Buffalo, New Yorker has established two legendary (and concurrent) album series, broken bread with industry leaders, and twice reached the Billboard Top 40 albums chart as an independent.

Now Benny sets the table for a definitive 2022. He now unveils his highly-anticipated "Tana Talk 4".
By 2004, Benny combined these experiences to launch the Tana Talk series while on house arrest. As TT3 promised, Benny delivered two volumes of The Plugs I Met, in 2019 and 2021, on his Black Soprano Family imprint. In between, Benny inked with Roc Nation management and made songs with Drake, Lil Wayne, Black Thought, and Freddie Gibbs. He also partnered with Grammy-winning producer Hit-Boy to flaunt his range on 2020's acclaimed "Burden of Proof".
If the third instalment of Tana Talk made Benny a formidable presence in Rap, Volume 4 propels him to stardom. Debut single Johnny P's Caddy partners The Butcher with J. Cole over The Alchemist production. Al' and Daringer handle the album's music, just as they seamlessly did on TT3.

Conway, Westside Gunn, 38 Spesh and more guest on TT4, as does Stove God Cooks.
Benny's skills and authenticity have cemented his place in the game. However, in a career defined by will and perseverance, The Butcher's blade keeps getting sharper.
Tracklist:
1. Johnny P's Caddy [feat. J. Cole]
2. Back 2X [feat. Stove God Cooks]
3. Super Plug
4. Weekends in the Perry's [feat. Boldy James]
5. 10 More Commandments [feat. Diddy]
6. Tyson Vs. Ali [feat. Conway the Machine]
7. Uncle Bun [feat. 38 Spesh]
8. Thowy's Revenge
9. Billy Joe
10. Guerrero [feat. Westside Gunn]
11. Bust a Brick Nick
12. Mr. Chow Hall
About this product: this release is available on CD and 2LP formats.
The CD comes in a 4-panel digipack.
The 2LP is pressed on black vinyl.