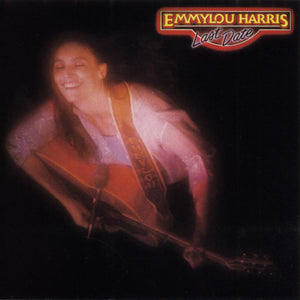 Emmylou Harris - Last Date LP
Tax included.
Shipping
calculated at checkout.
---
---
"Last Date" is a live Emmylou Harris album, released in October, 1982.
Recorded at a series of honky tonks and other small venues on the west coast, Harris conceived the album as a showcase for her Hot Band. It was composed mostly of country standards. Harris reached #1 on the U.S. country charts with the title single, written by Floyd Cramer, who originally took it to the top ten on the U.S. pop and country charts, as an instrumental in 1960.
Emmylou Harris is one of the queens of Country Music. She has released over 25 albums as a solo artist, as well as many albums paired with other artists including Linda Ronstadt, Mark Knopfler, Gram Parsons and Rodney Crowell. She released two albums with Dolly Parton and Linda Ronstadt as Trio. She has also been a guest artist on dozens of albums, contributing her unmistakable vocalese. She has won 14 Grammys, including the Grammy Lifetime Achievement Award.
She continues to record and tour to this very day.
Tracklist:
1. I'm Movin' On [Hank Snow cover]
2. It's Not Love (But It's Not Bad)
3. So Sad (to Watch Good Love Go Bad) [The Everly Brothers cover]
4. Grievous Angel
5. Restless
6. Racing in the Street [Bruce Springsteen cover]
7. Long May You Run [Neil Young cover]
8. We'll Sweep Out the Ashes (in the Morning)
9. Juanita
10. Devil in Disguise
11. (Lost His Love) On Our Last Date
12. Buckaroo / Love's Gonna Live Here (Medley)
About this product:
this reissue is pressed on black vinyl.