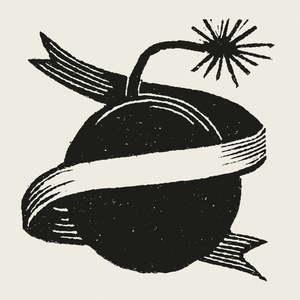 Blossoms - Ribbon Around The Bomb LP
Tax included.
Shipping
calculated at checkout.
---
---
Blossoms release their brand-new, fourth studio album "Ribbon Around The Bomb". The band's new album is produced by their consistent and renowned collaborators James Skelly and Rich Turvey and revolves around a central character 'The Writer'.

Standout tracks on the record include Ode To NYC, described by Tom as 'a love letter to my favourite city, as well as my wife', The Writer which deals with the fear of and frustration associated with writers block and Everything About You, one of the album's only love songs, which Tom says is 'as honest as they come'.
Visions meanwhile contains one of the album's key lyrics 'Was I complete at 23?', as Tom explains. 'At 23 I had just had a number 1 album and begun my relationship with my now wife Katie. Reflecting on what I'd achieved at such a young age left me wondering, what now?'
Tracklist:
1. The Writer's Theme
2. Ode to NYC
3. Ribbon Around the Bomb
4. The Sulking Poet
5. Born Wild
6. The Writer
7. Everything About You
8. Care For
9. Cinerama Holy Days
10. Edith Machinist
11. Visions
12. The Last Chapter
About this product: this is the Indie Stores Exclusive on gold vinyl, housed in a gatefold sleeve.