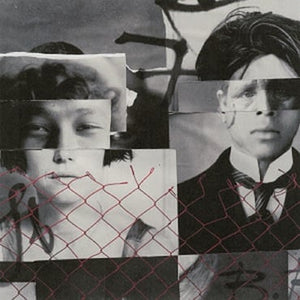 Jessie Buckley & Bernard Butler - For All Our Days That Tear The Heart 2LP
Tax included.
Shipping
calculated at checkout.
---
---
Jessie Buckley and Bernard Butler have joined forces on "For All Our Days That Tear The Heart", a collection of twelve mesmerising new songs.

The meeting of an Academy Award-nominated actress and singer, and a Brit Award-winning producer and musician, feels like the tale of two distant stars coming together and forming their own constellation.
It all started with a FaceTime call from Butler's North London kitchen to Buckley's mountaintop residence in County Kerry, with their friendship growing from an unlikely shared love of Killarney and the small island of Valentia where Butler would go on holiday as a boy. A mutual friend had a feeling they might spark. Buckley had been listening to Old Wow by Sam Lee, produced by Bernard, in the downtime between rehearsals for the National Theatre's televised production of Romeo and Juliet.
Butler had seen Jessie perform a song on an American chat show in promotion of 2018's Wild Rose. "I remember clocking just how much character there was in her voice and how freely she expressed it," recalls Bernard. If the project grew from a shared love and deep ancestral attachment to Ireland - Butler's parents come from Dun Laoghaire, one of the coastal towns of Dublin Bay - then these songs swoop out from the Emerald Isle's west coast, taking home Appalachian blues and delicate modal jazz from across the Atlantic, and taking in the bullfighting arenas of Andalusia along the way.
The first song the pair wrote together, 'The Eagle and the Dove' - named after a book by the interwar proto-feminist writer Vita Sackville-West - set the tone for the project, and also set in motion a sense of adventure that permeates For All Our Days That Tear The Heart.
Invoking the passionate theatre of flamenco, augmented by Jessie's sumptuous, soaring vocals, the pair recorded the intuitive dance moves of Juana Jimenez with a microphone placed on the floor of the Birchanger Village Hall in Essex of all places. There's a physicality and a flow to the songs that somehow bear testament to the manner in which Jessie and Bernard threw themselves into making the album. Amid the constant exchange of ideas, songs fomented at speed. The sublime '20 Years A Growing' takes its title from Maurice O'Sullivan's celebrated 1933 account of life in Great Blasket Island off the coast of County Kerry.
The more personal, piano-led Seven Red Rose Tattoos, captures the essence of loss and longing, with Jessie's vocal lines a counterpoint to Byron Wallen's doleful, muted trumpet: "I wanted it to be like a conversation with the ghosts of my thoughts," says Buckley. The dynamic title track is built around words that Jessie had written during a low period whilst in Chicago filming Fargo, with her extraordinary vocal blazing an emotional vapour trail through Bernard's chamber-folk arrangement. And the pair draw inspiration from the ensemble work of seminal jazz-folk innovators Pentangle on songs like I've Got a Feeling and Sweet Child, as the rhythm section of Misha Mullov-Abbado and Chris Vatalaro effectively converse with Jessie's bewitching vocals.
"Right now, I feel like I'll never make another album again," says Jessie, "because I can't imagine another album happening the way this one did. It's amazing that it even happened once. This obscure, organic, odd little thing that just found us."
"For All Our Days That Tear The Heart" is a remarkable work of windswept beauty and catharsis, and given that it seemed to come out of nowhere, it also feels like a gift. "More than anything, I wanted it to be joyous – properly joyous – because there is such joy in Jessie, there really is," says Bernard. "In spite of the darkness and the intensity in these songs, I'm just flying when I listen back to them."
Tracklist:
1. The Eagle & The Dove
2. For All Our Days That Tear the Heart
3. 20 Years a-Growing
4. Babylon Days
5. Seven Red Rose Tattoos
6. Footnotes on the Map
7. We've Run the Distance
8. We Haven't Spoke About the Weather
9. Beautiful Regret
10. I Cried Your Tears
11. Shallow the Water
12. Catch the Dust
About this product: this release is pressed on 2x 180g black vinyl, housed in a gatefold sleeve.