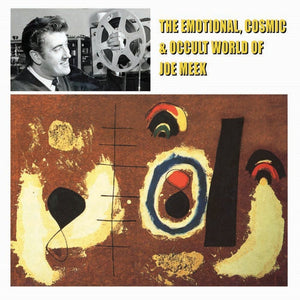 Joe Meek / Various Artists - The Emotional, Cosmic & Occult World Of Joe Meek LP
Tax included.
Shipping
calculated at checkout.
---
---
A trip through the productions of pioneering genius Joe Meek. Here we have a mix of hits that have appeared on comps before and real out there obscurities.

Never a dull moment amongst these songs that cover subjects close to Joes' heart such as vampires, love (and the lack of it), death, outer space, the human soul, Buddy Holly, and more.
Artists featured are The Blue Rondos, The Blue Men, Jason Eddie and the Centremen, The Sound Offs, The Moontrekkers, Johnny Leyton, The Cryin' Shames, Mike Berry, The Outlaws, Chick Lewis, Glenda Collins and even Joe himself warbling out a tune.
Tracklist:
1. Little Baby [The Blue Rondos]
2. Please Stay [The Cryin' Shames]
3. Johnny Remembers Me [John Leyton]
4. Crazy Drums [The Outlaws]
5. North Wind [Chick Lewis]
6. Valley of the Saroos [The Blue Men]
7. Singing the Blues [Jason Eddie and the Centremen]
8. Night of the Vampire [The Moontrekkers]
9. Tribute to Buddy Holly [Mike Berry and The Outlaws]
10. The Angry Desert [The Sound Offs]
11. It's Hard to Believe [Glenda Collins]
12. The Bublight [The Blue Men]
About this product: this is pressed on standard black vinyl.