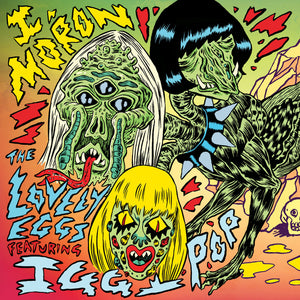 The Lovely Eggs - I, Moron 7" (2022 Red Vinyl Repress)
Tax included.
Shipping
calculated at checkout.
---
---
The Lovely Eggs offer a limited reissue of their popular 2021 single I, Moron featuring Iggy Pop on Egg Records.

"Being in The Lovely Eggs we're kind of used to surreal experiences but collaborating with Iggy Pop takes the biscuit," exclaims singer/guitarist Holly Ross. "It's actually unbelievable. For him just to say nothing but "moron" over and over again fitted in with the sentiment of the song perfectly. He just GOT it. We are all morons. In a world of moronic things. In a world of moronic ideas. You are moron. I am Moron. We are Moron."
The vinyl comes with eye watering art-work by illustrator Casey Raymond. Backed by a B-Side cover of Iggy Pop's "Dum Dum Boys" from his 1977 album 'The Idiot'.
Tracklist:
1. I, Moron [feat. Iggy Pop]
2. Dum Dum Boys [Iggy Pop cover]
About this product: this reissue is pressed on 7" red vinyl, limited pressing of 500 copies.