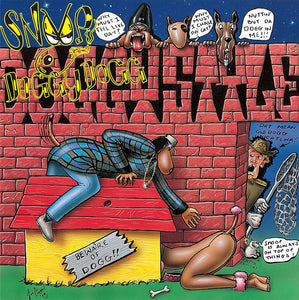 Snoop Dogg - Doggystyle (30th Anniversary) 2LP
Tax included.
Shipping
calculated at checkout.
---
---
To celebrate the 30th anniversary of Snoop Dogg's multi- platinum "Doggystyle", heralded as one of the most important albums of all time, Death Row Records bring this back to retail with the original 1993 track listing on vinyl.

This new 30th Anniversary edition will include the track Gz Up, Hoes Down which has not been on the album since its pressing in 1993. For new and old fans alike, this is the definitive version of the classic album that launched Snoop's solo career and helped define the sound of Los Angeles in the process.
Tracklist:
1. Bathtub
2. G Funk Intro
3. Gin and Juice
4. Tha Shiznit
5. Lodi Dodi
6. Murder Was the Case [feat. Dat Nigga Daz]
7. Serial Killa [feat. D.O.C., RBX and Tha Dogg Pound]
8. Who Am I (What's My Name)
9. For All My Niggaz & Bitches [feat. The Lady of Rage]
10. Ain't No Fun (If the Homies Can't Have None) [feat. Tha Dogg Pound and The Dramatics]
11. Gz and Hustlas
12. Gz Up, Hoes Down
13. Pump Pump [feat. Lil Malik aka Lil Hershey Loc]

About this product: this is the 30th Anniversary reissue on 2x clear vinyl, housed in a gatefold sleeve.