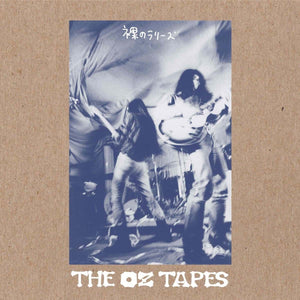 Les Rallizes Denudes - The OZ Tapes 2LP
Tax included.
Shipping
calculated at checkout.
---
---
First-ever official worldwide LP release by Les Rallizes Dénudés. Mysterious and notorious Japanese group formed in 1967 whose brand of unrelenting psychedelia and pure sonic assault has been cherished the world over.

Operating out of a small upstairs space just around the corner from the train station in the Kichijoji neighborhood of Tokyo, OZ was a scruffy, DIY affair that lasted not much more than a year. Between June 1972 to September 1973, the cafe and performance space became the nerve center for the city's burgeoning underground and counterculture set.
Hadaka No Rallizes, aka Les Rallizes Dénudés, the psychedelic noisemakers originally from Kyoto, was one of the marquee names at OZ. Led by the enigmatic Takashi Mizutani, the now-legendary band was one of the earliest bookings for the venue, and would ultimately close out OZ Last Days, a raucous five-day blowout to celebrate the short but wonderful world of OZ. To commemorate the occasion, recordings made at OZ were released as "OZ Days Live", a private press 2LP set featuring Miyako Ochi, Acid Seven, Masato Minami, Taj Mahal Travellers, and four tracks by the Rallizes—which constituted just a fraction of what had been recorded at the time
For nearly 50 years, these songs remained the only official appearance of the Rallizes on vinyl—until now.
With "The OZ Tapes", we are finally able to hear the missing pieces. Stored on reels of Scotch analog recording tape, these recordings had laid dormant in storage for almost half a century. The previously unheard material reveals the Rallizes at some of their most unhinged and experimental, as well as moments of delicate tenderness—the two sides of Mizutani that would come to define his band's legacy. Taken as a whole, "The OZ Tapes" help to demystify the band's murky history, yet this vibrant and seemingly relatively innocent era only hints at the explosive, uncharted worlds into which Mizutani would lead the band.
Tracklist:
1. OZ Days
2. A Shadow on Our Joy
3. Wilderness of False Flowers
4. White Awakening
5. The Last One_1970
6. Memory is Far Away
7. Vertigo Otherwise My Conviction
8. The Last One_1970 (Ver.2)
About this product: this release is pressed on 2x milky clear vinyl, housed in a craft board sleeve. Includes a 12-page liner notes book featuring archival photos.