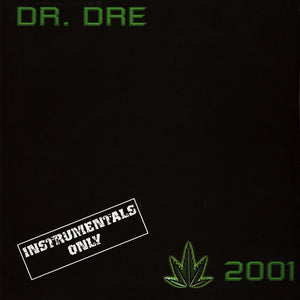 Dr. Dre - 2001 (Instrumentals Only) 2LP
Tax included.
Shipping
calculated at checkout.
---
---
"2001" was the second studio album by Dr. Dre. It was released on November 16, 1999, by Interscope Records as the follow-up to his 1992 debut album "The Chronic".
The record was produced primarily by Dr. Dre and Mel-Man, as well as Lord Finesse, and features several guest contributions from fellow rappers such as The D.O.C., Hittman, Snoop Dogg, Kurupt, Xzibit, Eminem, and Nate Dogg. 
"2001" exhibited an expansion on Dre's debut G-funk sound and contains gangsta rap themes such as violence, promiscuity, drug use, street gangs, sex and crime.
With this version, the focus is purely on the instrumentals that played a huge part in the songs hooking themselves in our heads.
Tracklist:
1. Lolo (Intro)
2. The Watcher
3. Fuck You
4. Still D.R.E.
5. Big Ego's
6. Xxplosive
7. What's the Difference
8. Bar One
9. Light Speed
10. Forgot About Dre
11. The Next Episode
12. Let's Get High
13. Bitch Niggaz
14. Murder Ink
15. Some L.A. Niggaz
16. Jake's Pause 4 Porno
17. Housewife
18. Ackrite
19. Bang Bang
20. The Message
About this product: this reissue is pressed on 2x black vinyl