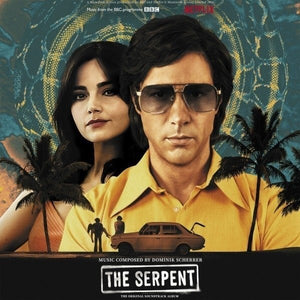 Dominik Scherrer -The Serpent OST LP
Tax included.
Shipping
calculated at checkout.
---
---
Dominik Scherrer's eerie, period-warping score for Netflix's 70s-tinged hit The Serpent includes four tracks not available on the digital edition of the soundtrack.
Emmy Nominated, Swiss-born British composer Scherrer's score for The Serpent slithers appropriately between period grooviness and nail-biting suspense. Like Dead Can Dance meets John Barry in an enthralling marriage of organic instrumentation and synthetic swells, blending numerous cultures, The Serpent soundtrack is a perfect "East meets West" sonic thriller.

For his score, Dominik spent time in Thailand, where some of the series was filmed, recording traditional instruments including the Ranat and Khong Wong Yaifor. Having already been immortalised on vinyl with his soundtrack for Requiem with Natasha Khan from Bat For Lashes, Svart elevates Dominik Scherrer's name to an up and coming Zimmer-like proportion as a Soundtrack connoisseur's seal of quality.
Revisit the world and atmosphere of this Netflix smash hit or delve in and lose yourself for the first time, as Scherrer's score takes you deep into the paranoid thrillers of the 70s era while still sounding incredibly modern and fresh.
Released including tracks that are exclusive to the physical edition and not included in the digital version, this release of The Serpent soundtrack is one to seek out and covet.
Tracklist:
1. He Likes to Escape
2. State of Flux
3. Herman in the Rain
4. Drive to Kanit House
5. Discotheque Darkness
6. Teresa Knowlton
7. Afghanistan Driving
8. Embassy Phone Calls
9. Malevolent Beach Game
10. Searching Apartment 504
11. Pocket Change and Gutter Work (Bonus track)
12. Another Reckless Westerner (Bonus track)
13. Homicidal Ubermensch
14. Colonel Somphol of Interpol
15. Dominique's Passport
16. Gem Dealers
17. Front Page News
18. Copy Shop
19. Cashing Cheques
20. Tihar Jail, Delhi
21. Epic Journey
22. Kashmir, India (Bonus track)
23. Gems in Bangkok, Money in Paris (Bonus track)

About this product: this release is pressed on 'Venomous Green' vinyl. Limited pressing of 500 copies.