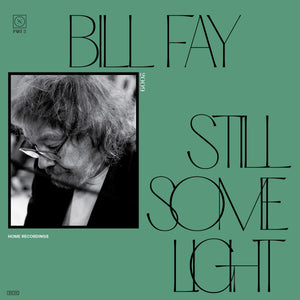 Bill Fay - Still Some Light: Part 2 CD/2LP
Tax included.
Shipping
calculated at checkout.
---
---
Bill Fay has always sung about attempting to understand the most universal questions: those of nature, spirituality, humanity. His songs are "calming hymns for another chaotic time", he says. His influence can be traced through many artist's work, and so it only seemed right to celebrate this with a collection of newer voices interpreting his timeless tracks.

Originally released in 2010 by David Tibet (Current 93), "Still Some Light" was released as a double CD, made up of 70's album demos (Disc One) and 2009 home recordings (Disc Two). This year, for the first time, this collection of recordings is pressed to vinyl and released digitally, presented alongside contemporary reimaginings of the tracks by Kevin Morby, Steve Gunn, Julia Jacklin and Mary Lattimore.
Bill Fay's words and melodies remain unaffected by the passing of time and changing trends; and here alongside the original recordings, these reinvented versions still calmly guide us through another moment of chaos.
Tracklist:
1. My Eyes Open
2. Solace Flies In
3. Long Way from Tipperary
4. All Must Have a Dream
5. War Machine
6. There is a Valley
7. Road of Hope
8. Jericho Road
9. City of Dreams
10. Time to Wake Up Now
11. Hello Old Tree
12. Anthems
About this product: this release is available on CD and 2LP formats.
The 2LP is pressed on black vinyl.