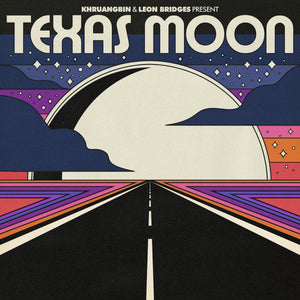 Khruangbin & Leon Bridges - Texas Moon EP
Tax included.
Shipping
calculated at checkout.
---
---
Khruangbin and Leon Bridges release their latest collaborative EP, "Texas Moon" on Dead Oceans, in partnership with Columbia Records and Night Time Stories Ltd. An extension of the two's chart-topping four-song "Texas Sun" journey, "Texas Moon" is an introspective stroll through the dark. "Without joy, there can be no real perspective on sorrow," says Khruangbin. "Without sunlight, all this rain keeps things from growing. How can you have the sun without the moon?"

Crediting their mutual home state for inspiration, "Texas Moon" pensively examines Texas' musical perception, while paying homage to the marriage of country and R&B that's become synonymous with the lone star state. Propelled by rolling guitar licks, conga and bongo, lead single 'B-Side' meditates on meeting in a dream and frolics across the nearing contemplative nighttime state with its longing's joy.
Elsewhere on "Texas Moon", the artists channel a newly intimate musical scope that's illustrated most dramatically when the spacy sensuality of the minimalistic Chocolate Hills leads into the stark spirituality addressed on Father Father, a reminder of both acts' gospel roots. Over a simple rolling guitar figure, Bridges pleads with the heavens — "Look at the mess that I made/Just a man with unclean hands" — only to be reminded of God's eternal love.
For Khruangbin, one song in particular was indicative of the trust that Bridges put in them. "The song Doris is about his grandmother making the transition from this world to the next realm," says Johnson. "It's a very somber, very deep record. And when someone places that kind of work into your hands, the last thing you want to do is junk it up, overproduce it, or do too much. We treated it with the respect it deserved, and treated Doris with the respect she deserves."
"It's like a short story...," Lee says of the music. "And it leaves room to continue having these stories together. It's not Khruangbin, it's not Leon, it's this world we created together."
Tracklist:
1. Doris
2. B-Side
3. Chocolate Hills
4. Father Father
5. Mariella
About this product: this is the Indie Store Exclusive on 'Blue Daze' vinyl.