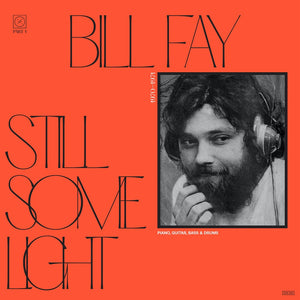 Bill Fay - Still Some Light: Part 1 CD/2LP
Tax included.
Shipping
calculated at checkout.
---
---
Bill Fay's "Still Some Light" was originally released on compact disc as a two CD collection in 2010. Reimagined with new artwork and available for the first time ever on vinyl, Dead Oceans is pleased to present "Still Some Light Pt. 1", collecting Fay's archival recordings from 1970 and 1971.

Many of the songs are intimate sketches which were eventually re-recorded for Fay's self-titled debut and for his landmark album, "Time of the Last Persecution". This double LP set includes heart wrenching versions of some of his timeless works, such as I Hear You Calling and Pictures of Adolf Again, and features equally powerful songs like Arnold is a Simple Man and Love is the Tune, which only appear in this collection.
Tracklist:
1. Backwoods Maze
2. The Sun is Bored
3. There's a Price Upon My Head
4. Time of the Last Persecution
5. Plan D
6. Sing Us One of Your Songs May
7. I Will Find My Own Way Back
8. Love is the Tune
9. Laughing Man
10. Arnold is a Simple Man
11. Just to be a Part
12. Inside the Keeper's Pantry
13. Pictures of Adolf Again
14. Tell It Like It Is
15. Release is in the Eye
16. Dust Filled Room
17. I Hear You Calling
About this product: this release is available on CD and 2LP formats.
The 2LP is pressed on black vinyl.