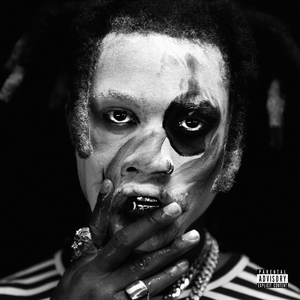 Denzel Curry - TA13OO LP
Tax included.
Shipping
calculated at checkout.
---
---
"TA13OO" (Taboo) is the third album by Denzel Curry, released in 2018.
On "TA13OO", Denzel delivers a groundbreaking musical performance which sees him as a deadly lyricist and disciple of rap's forefathers while simultaneously filling the gap between the older generation and the new generation of soundcloud rappers that he helped birth in both sound and style.
With his music and movements he commands respect from each group in a way few are able to as he tells stories that resonate with both audiences. The album features production from FNZ, Ronny J, Charlie Heat, DJ Dahi, and more. Guest features include J.I.D., Billie Eilish, Goldlink and introduces long-time friend and collaborator Nyyjeria.
The album is the first long form statement since his 2016 album "Imperial" which landed him on the XXL Freshman cover and helped set the template for the South Florida sound that has exploded in last couple of years. In the process of recording the album Denzel adopted a new alter ego, Zeltron, combining the aspects of all of his split personalities he has created over time.
Denzel describes the album as being split into three parts: the light, the grey, and the dark side. Lyrically, he touches on topics of molestation, the presidential election, fame, hatred, paranoia, revenge, love, arrogance, suicide, loss of loved ones, the current state of music, and personal tales of his own near death experiences. Sonically, the album is the sound of paranoia and the fear of losing things people hold dear to them.
Tracklist:
1. TABOO | TA13OO
2. BLACK BALLOONS | 13LACK 13ALLOONZ [feat. Twelve'len and Goldlink]
3. CASH MANIAC | CAZH MAN1AC [feat. Nyyjerya]
4. SUMO | ZUMO
5. SUPER SAIYAN SUPERMAN | ZUPER ZA1YAN ZUPERMAN
6. SWITCH IT UP | ZWITCH 1T UP
7. MAD I GOT IT | MAD 1 GOT 1T
8. SIRENS | Z1RENZ [feat. J.I.D.]
9. CLOUT COBAIN | CLOUT CO13AIN
10. THE BLACKEST BALLOON | THE 13LACKEZT 13ALLOON
11. PERCS | PERCZ
12. VENGEANCE | VENGEANCE [feat. JPEGMAFIA and Zillakami]
13. BLACK METAL TERRORIST | 13 M T
About this product: this is pressed on black vinyl.