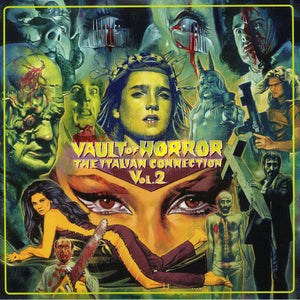 Various Artists - Vault Of Horror: The Italian Connection Vol. 2 2LP
Tax included.
Shipping
calculated at checkout.
---
---
Tracklist:
1. Savana [Guido De Angelis]
2. Make Love on the Wing [Nico Fidenco]
3. Ecologia Del Delitto [Stelvio Cipriani]
4. Il Paese Del Sesso Selvaggio [Sergio Patucchi]
5. You Are Not the Same [Fabio Frizzi]
6. Valley [Bill Wyman]
7. Conquest [Claudio Simonetti]
8. Baby Sequenza [Fabio Frizzi]
9. La Luce [Ennio Morricone]
10. Sudden Death [Carlo Maria Cordio]
11. La Lucertola [Ennio Morricone]
12. Seq 7 [Roberto Pregadio]
13. John Dalton Street [Giuliano Sorgini]
14. Arizona Mountain [Francesco De Masi]
15. Shining Shadow [Franco Micalizzi]
16. Opera Theme [Bill Wyman]
17. Verso L'Alba [Fabio Frizzi]
18. Cannibal Ferox [Roberto Donati]
19. Seq 1 [Fabio Frizzi]
20. Seq 1 [Alessandro Alessandroni]
About this product: this compilation is pressed on 2x 180g vinyl, comes with a 12" x 12" art print of the cover painting and a free CD.