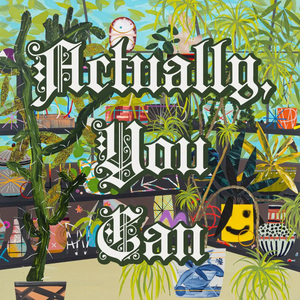 Deerhoof - Actually, You Can LP
Tax included.
Shipping
calculated at checkout.
---
---
Over eighteen boundless albums as experimental as they are pop, Deerhoof has continuously quested for radical sounds and daring storytelling. 2020's
 "
Future Teenage Cave Artists"
explored fairytale visions of post-apocalypse, welding intrinsic melodies with absurdist digital recording methods. Its sequel
 "
Love-Lore", a live covers medley, channelled futurist mid-century artists Parliament, Sun Ra and Stockhausen, to name a handful into a patchwork love letter to the anti-authoritarian expressions that inspire the band.

Galvanized by the challenge of unifying many styles of music, Deerhoof landed on their next record's concept: baroque gone DIY. "Actually, You Can" is a genre-abundant record that uses technicolour vibrancy and arpeggiated muscularity to offer a vital shock from capitalism's purgatorial hold.

"In the United States now, to be a moral person means to be a criminal, whether it has to do with a general strike or forming a union or Black Lives Matter protests," clarifies Saunier of the album's countercultural embrace of liberation. "If you follow the rules, you're guilty. That's the spirit we were trying to express: an angelic prison bust, a glamorous prison bust." It's a condemnation of America's mundanity, replacing violence with the heartfelt power of mutualism.
For Deerhoof's members to continually uncover new corners of their own talent requires deep wells of gratitude, not only for each others' creativity but for the freedom their career affords. But by embracing each other's art with curiosity, Deerhoof authors a musical alphabet that continues to astound and inspire, a unique lexicon expanding limitlessly with each album.
For new listeners and decades-long devotees, Deerhoof's electrifying, generous approach to collaborative worldbuilding on "Actually, You Can" is an emboldening call to support our communities with renewed strength, infinite love, and the resilience to keep exploring.
Tracklist:
1. Be Unbarred, O Ye Gates of Hell
2. Department of Corrections
3. We Grew, and We Were Astonished
4. Scarcity is Manufactured
5. Ancient Mysteries, Described
6. Plant Thief
7. Our Philosophy is Fiction
8. Epic Love Poem
9. Divine Comedy
About this product: this release is pressed on 'Chlorophyll Green' vinyl. Includes a download code.