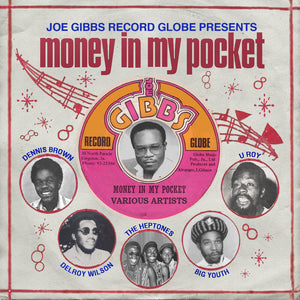 Various Artists - Money In My Pocket - The Joe Gibbs Single Collection 1972-1973 2CD
Tax included.
Shipping
calculated at checkout.
---
---
48-tracks from the Joe Gibbs' stable of the 1970s, featuring a diversity of performer and musical styles. A 2CD set that includes significant Jamaican hits alongside almost forgotten rarities, with all but 15 recordings making their CD debut, many tracks unavailable on any format since the early '70s with 33 tracks new to CD. Including many of the biggest Jamaican hits of the early 1970s.

As the '70s unfolded, producer Joe Gibbs continued his inexorable rise to the top of the island's musical tree. His willingness to try new talent and styles gave him an edge over many of his contemporaries, as reflected in the willingness of major artists to join his roster of acts.
Among their number were such established stars and Dennis Brown, The Heptones, The Ethiopians, Delroy Wilson, Alton Ellis and Derrick Morgan, and newcomers who were just beginning to make their mark on the local recording scene.
Tracklist:
- DISC ONE -
1. Money in My Pocket [Dennis Brown]
2. A-So We Stay [Big Youth and Dennis Brown]
3. Ration [Bongo Herman and Bunny]
4. I've Got a Feeling (Take 2) [The Heptones]
5. Knock on Wood [Alton Ellis]
6. Baby I Need Your Loving [Delroy Wilson]
7. The World Is On A Wheel [The Meditators]
8. More Dub [Johnny Lover]
9. More Dub – Chapter II [Joe Gibbs and The Professionals]
10. In Heaven There is No Beer [The Happs]
11. Pretty Face Girl [Delroy Wilson]
12. Make Love Not War [U Roy]
13. Horse Race [Derrick Morgan]
14. Things Not Easy [The Meditators]
15. Virginia Skank [Johnny Lover]
16. Fort Augustus Rock [Joe Gibbs and The Professionals]
17. Whip Them Jah Jah [Eddie Ford]
18. If You Had Known [Eddie Ford]
19. Africa Want Us All [Allan King]
20. Tippertone and Tubby Clash [King Smiley]
21. Bam Bam Festival [Jackie Brown]
22. Pablo At Home [Augustus Pablo]
23. DJ Quadrille [Prince Francis]
24. Quadrille Skank [Prince Francis]
- DISC TWO -
1. Pretend [Dennis Brown]
2. Botswana Skank [Joe Gibbs and The Professionals]
3. JA Special [Frankie Diamond and The Love Generation]
4. Foreman vs. Frazier [Big Youth]
5. Round 2 [Big Youth]
6. You Wrong Fe Trouble Joshua [Eddie Ford]
7. Love And Affection [Jackie Brown]
8. Jump Up Action [The Ethiopians]
9. By 7 [Delroy (Crutches) Jones]
10. Rhythm One [King Smiley]
11. Be the One [The Heptones]
12. The Road is Rough [Joe Gibbs and The Professionals]
13. Musical Chastisement [Cat Campbell[]
14. Musical Dub [Joe Gibbs and The Professionals]
15. Feme Fille [Bongo Herman and Bunny]
16. Fille's Pleasure [Bongo Herman and Bunny]
17. Chucky No Lucky [Big Youth]
18. Waterhouse Rock [Big Youth]
19. East Africa [Vin Gordon]
20. Dreadlock Rock [Dillinger]
21. When You Are Down [Dennis Brown]
22. Rocking Down Old York Way [Prince Francis]
23. American Pum Pum [Big Joe]
24. Tape White Wash [Big Joe]