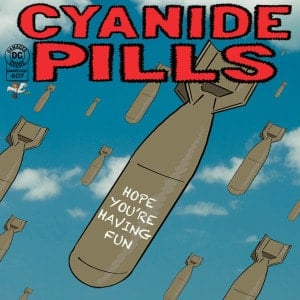 Cyanide Pills - Hope You're Having Fun / Don't Tell Me Everything's Alright 7"
Tax included.
Shipping
calculated at checkout.
---
---
A-side from recent album "Soundtrack To The New Cold War"! B-side exclusive to this release!

Tell us about your influences Phil... "Influences hmm well, we don't just listen to punk rock, neither did the early bands because there wasn't any. We like the usual suspects obviously, our favourites are the Belgian band The Kids, X-Ray Spex and Buzzcocks. We like Satan's Rats, The Tours, Knots, The Fingers, Panic, Kleenex, Crime, The Terrorways, Victims, Wipers, The Briefs, The Spits, The Plugz, Bad Nerves, Nasty Rumours, stuff like that, loads of stuff, Syd Barrett, The Kinks, MC5, Stooges, Bowie, Ruben and the Jets, Kim Fowley, John Lee Hooker, Howlin' Wolf. The list goes on and on and on."
We love that you still release singles. Are they fun to do? Why do you keep doing them? "Ian and Duncan Damaged love singles. We love singles. Where else would you put a B side?" (As told to Bruce Turnbull from Vive Le Rock Magazine).
Tracklist:
1. Hope You're Having Fun
2. Don't Tell Me Everything's Alright
About this product: this is pressed on 7" blue vinyl.