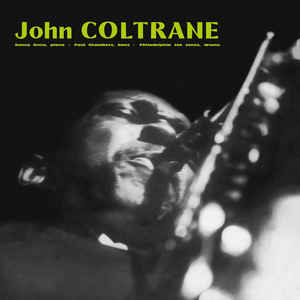 John Coltrane - A Jazz Delegation From The East LP
Tax included.
Shipping
calculated at checkout.
---
---
When these two sessions took place, Paul Chambers was still a young musician whose work with the Miles Davis Quintet had stirred much excitement. Both sessions are very special because they were not even scheduled dates.

The first, recorded in two hours for Jazz:West, a small Los Angeles label, was actually a date with the Davis group minus the leader and with Kenny Drew in for Red Garland. The second, recorded a few weeks later for Transition, another small label based in Cambridge, Mass., came out of a rehearsal session for a planned and unfinished album.

On both sessions Chambers shows to the full his remarkably expressive sound and technique. He could also be quite moving when he played the simplest and most direct lines, and his solos virtually claimed a spotlight for the instrument in its own right as a horn with the others.

These dates have other virtues, including the soulful work of Kenny Drew, the multifaceted rhythmic drive of Philly Joe Jones. John Coltrane is especially gripping on his own John Paul Jones, with Chambers equally inspiring. Curtis Fuller, on his debut, announced a major trombone talent, with Pepper Adams, baritone sax with Stan Kenton, lending his hoarse, visceral sound to the session. Time has been good to these inspired blowing sessions.
Tracklist:
1. Dexterity
2. Stablemates
3. Easy to Love
4. Visitation
5. John Paul Jones
6. Eastbound
About the product: this is a reissue with stereo sound.