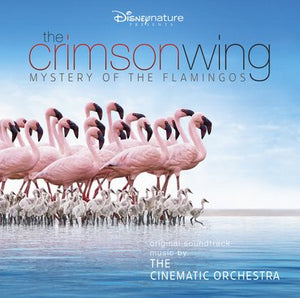 The Cinematic Orchestra - The Crimson Wing: Mystery Of The Flamingoes 2LP
Tax included.
Shipping
calculated at checkout.
---
---
Released for the first time on vinyl, "The Crimson Wing: Mystery of The Flamingos" by the Cinematic Orchestra.
Originally released in 2009 on CD and download, Record Store Day saw the soundtrack issued for the first time on 2LP coloured vinyl - in pink!
The soundtrack accompanied The Crimson Wing: Mystery of the Flamingos, a 2008 British-American nature documentary that explored the massive gathering of lesser flamingos in Tanzania.It was the very first movie released under the Disney Nature label.
In what may have seemed an unusual move at the time, the producers of the film wanted to find a popular artist they liked and combine them with the truly striking imagery the film would produce. This led them to the critically acclaimed British jazz-electronic group Cinematic Orchestra who would go on to compose and perform the soundtrack.
Produced by The Cinematic Orchestra and Steve McLaughlin with score orchestration by Teese Gohl, it was performed at Air Lyndhurst by The Cinematic Orchestra and the London Metropolitan Orchestra.
Tracklist:
1. Opening Titles
2. Arrival of the Birds
3. The Dance
4. Soda
5. Hatching
6. Marabou
7. Exodus
8. Transformation
9. Hyena
10. Life of the Bird
11. First Light
12. Crimson Skies [feat. Lou Rhodes]

About this product: this is the August Record Store Day '20 pressing on 2x pink vinyl, limited to 650 copies.